Donate Here to Help Save A Life
Jurassic Bark Rescue is a 501 c 3 Public Charity
New stuff, take a look. And please come back soon.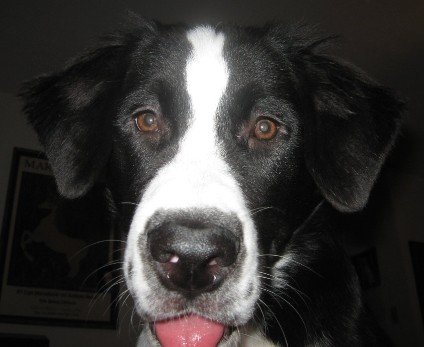 You can see our dogs at
Petfinder.com
and
Adopt A Pet.com
I can't tell you how much I hate Yola's new format, they are making it really hard to use the FREE version !! So I apologize for the sloppy page. The pictures and text are not compatible any more and we are looking for a new web page host. Anyway for now, please bear with us....
We are just really not able to update the dog page like we should since it takes way toooooo much time now, with he new format..
So please visit our Facedbook pages and also Petfinder and Adopt A Pet where you can see a complete and up to date list !!
Please visit our Facebook page for up to the minute photos of all our adoptable dogs !!
ADOPTED !!!!
This is TINK - she is a 12 lb Terrier mix that was dumped on a good friend of ours and we are trying to help out. She is 12 lbs , spayed, current on all shots and HW negative. She is great with kids, cats and mohawks !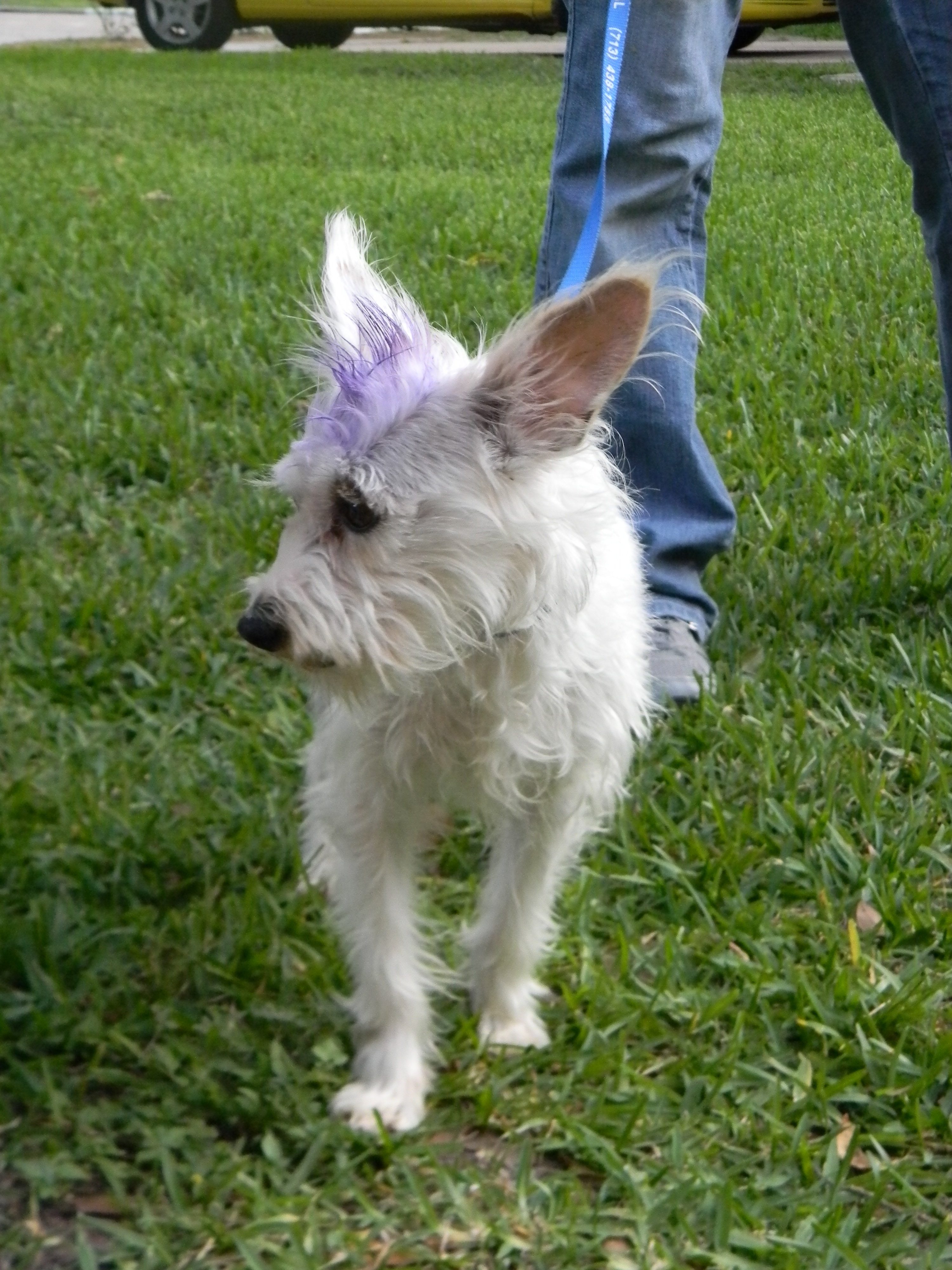 I picked Rhett up from the Brazoria Co Sheriff's Dept this morning at 7:30. I had to wait outside because they were putting down the Monday morning PTS list. Rhett was originally on that list. We thank the volunteers that post these guys everyday since rescue is their only way out. Rhett is a 75 lb Bull Mastiff Mix. He is at Stafford Oaks Vet Hospital right now being neutered and getting HW tested and UTD on shots.
We found out today he is High HW positive and he will begin treatment in the next 2 weeks after his neuter is healed. Rhett bears the scars of having lived a rough life on the streets, he has scars on his face and head and a sad look in his eyes. Please call if you are interested in meeting Rhett or have any questions or would like to donate to his treatment. 832-243-6090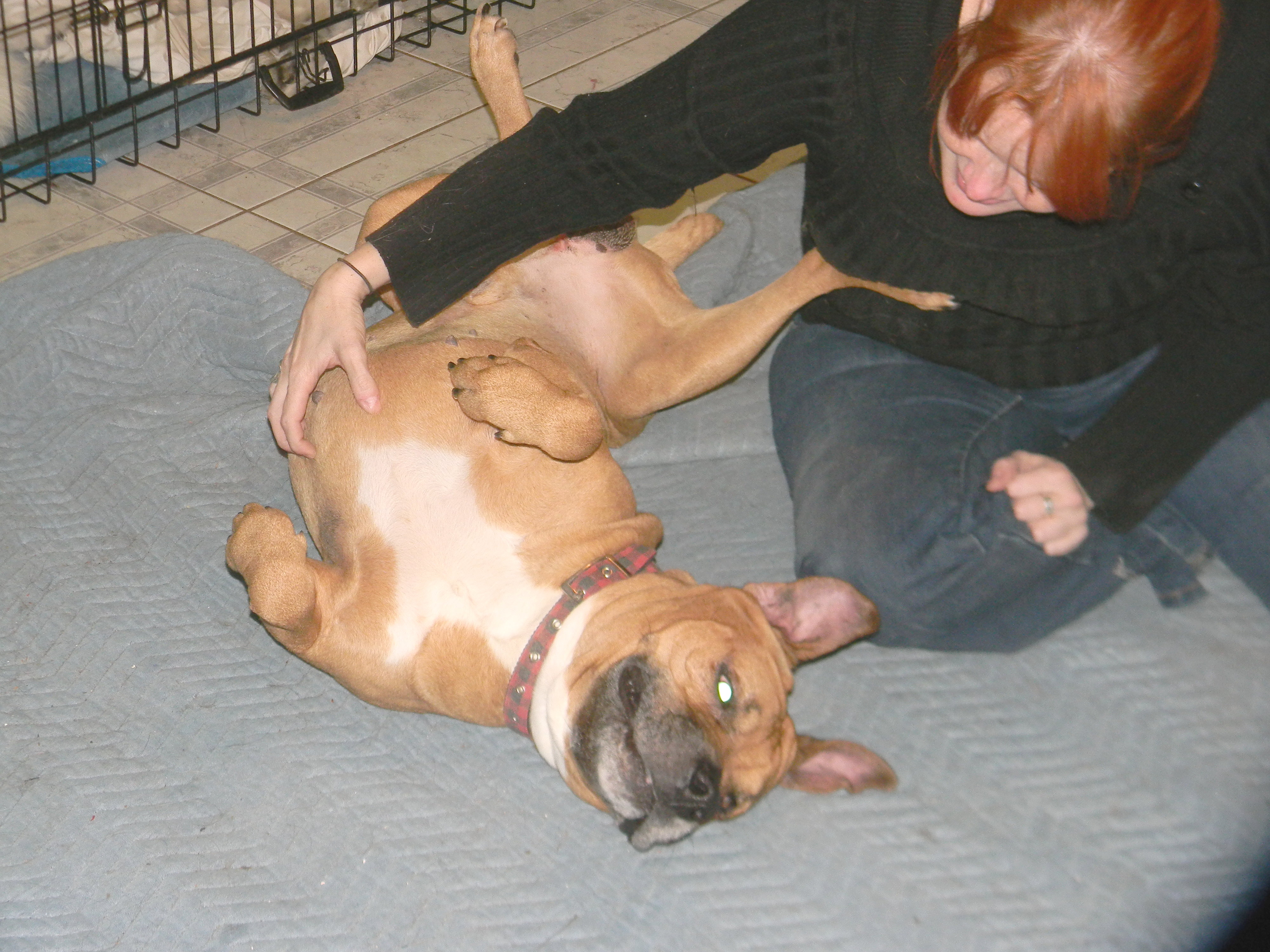 This is Rhett!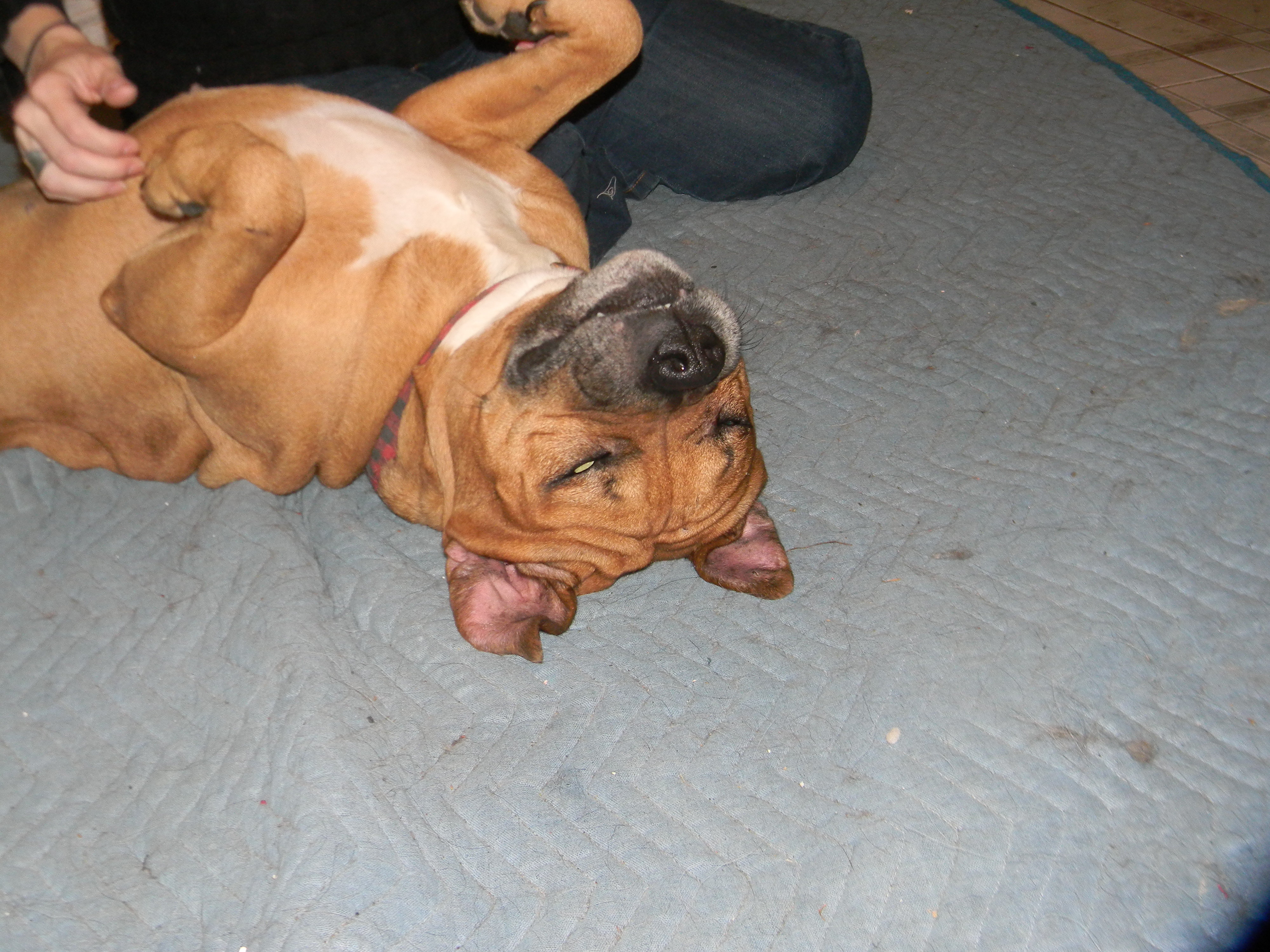 Rhett was ADOPTD !!!!
Thank You for your Tax Deductible Donation
Monroe !!! ADOPTED !!!!!!
Monroe is a St Bernard /Pyresnees Mix he is great, sweet and calm.....I would LOVE to show you pictures...BUT......
Yolo has changed it's set-up and I am having real trouble getting pictures up.
Please go to Petfinder .com or our Faceb
ook page for more info and pics of Monroe.
While I try to figure this out !!!
Sorry for the inconvenience !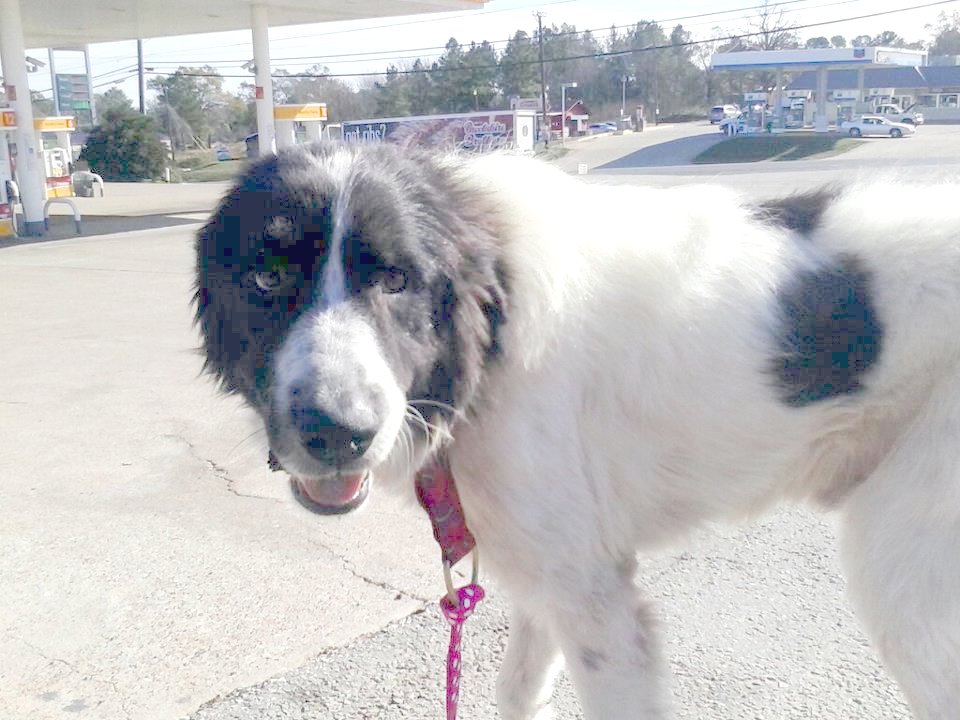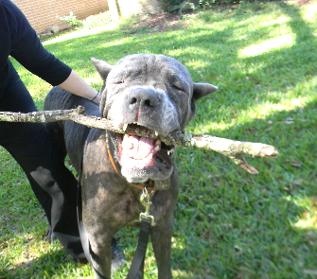 Adopted !! YAY ROCKY !!!!
This is Rocky, we named him that because I know he has the heart of a Champion !!! When we got the call about Rocky three weeks ago, we knew it was urgent, when we picked him up we could not believe how bad it was. Rock is a PB Cane Corso Mastiff, he is about 2-3 yrs old and should weight 170-180 lbs, he is quite tall. When we got him, he was 102 lbs, had a massive skin infection, ear infection and eye infection - he was fighting so much infection that his eyes had stopped producing tears !!!! He was so thin we could count all his bones. And as if that were not enough he had a tumor on his neck that had ruptured though the skin !! We went to work. We brought him home, took him to the Vet and began to get him healthy. After a week he had put on 8 lbs and was on a daily regimen of antibiotics, ear/eye meds and tons of TLC. After 2 weeks we felt confident enough in his progress to get him neutered and have the tumor removed. WE were so afraid that it was Cancer, that fear was heightened when the vet called during the surgery to say there was another tumor under the first !!!! OMG - NO !! We had both removed and waited for the test results. To our great JOY and surprise, both tumors were NEGATIVE !!!! Rocky does not have Cancer !!!! He is med HW positive, but by comparison...I'll take it !!! Heartworms we know how to fix...Cancer scared me to death.
So now neutered, cancer free.....and well on his way to good health. We feel comfortable posting Rocky for adoption !!!!!
What we have learned about Rocky is that he is a good man, the kind of guy you would want to go to the game with and have a beer or two. Rocky is gentle, ha loves to sleep in the bed and curl up with you. Rocky is patient, letting us dress him up in a really cool Frank Sinatra Hat !!! We found out he loves Classic Rock music and live bands !!!! He likes kids and all people, he tolerates cats and smaller dogs , but barks at large dogs as if to get their attention. He loves his bone and the ONLY destructive thing he has done is to take a pillow off the bed, OUT of the pillow case and chew a small hole in it, play with it and love on it !! Took the pillow case off !!!! LOL !! He rarely barks, is great at the Vet, rides well in cars, is house and crate trained !! He has an even temperament and a WONDERFUL personality !! He is the kind of dog you fight for !!! We have been able to see signs of abuse. ...this dog has bee beaten !! When we pick up something like a hair brush he runs, we threw a stick for him and he freaked like we were throwing it AT him..so we are using a lot of positive reinforcement and being sooo kind to him. He was terrified at first but is coming out of his shell and doing GREAT !!
Jurassic Bark Rescue only adopts in Texas.
Please if you have any questions about Rocky call m e at 832-243-6090.
Apollo - Adopted !!!
Returning to Rescue, needs a new home !!!
The Johnson family has been hit with a tragedy the mother in law had a stroke and now must move in with the family and the pets must be re-homed !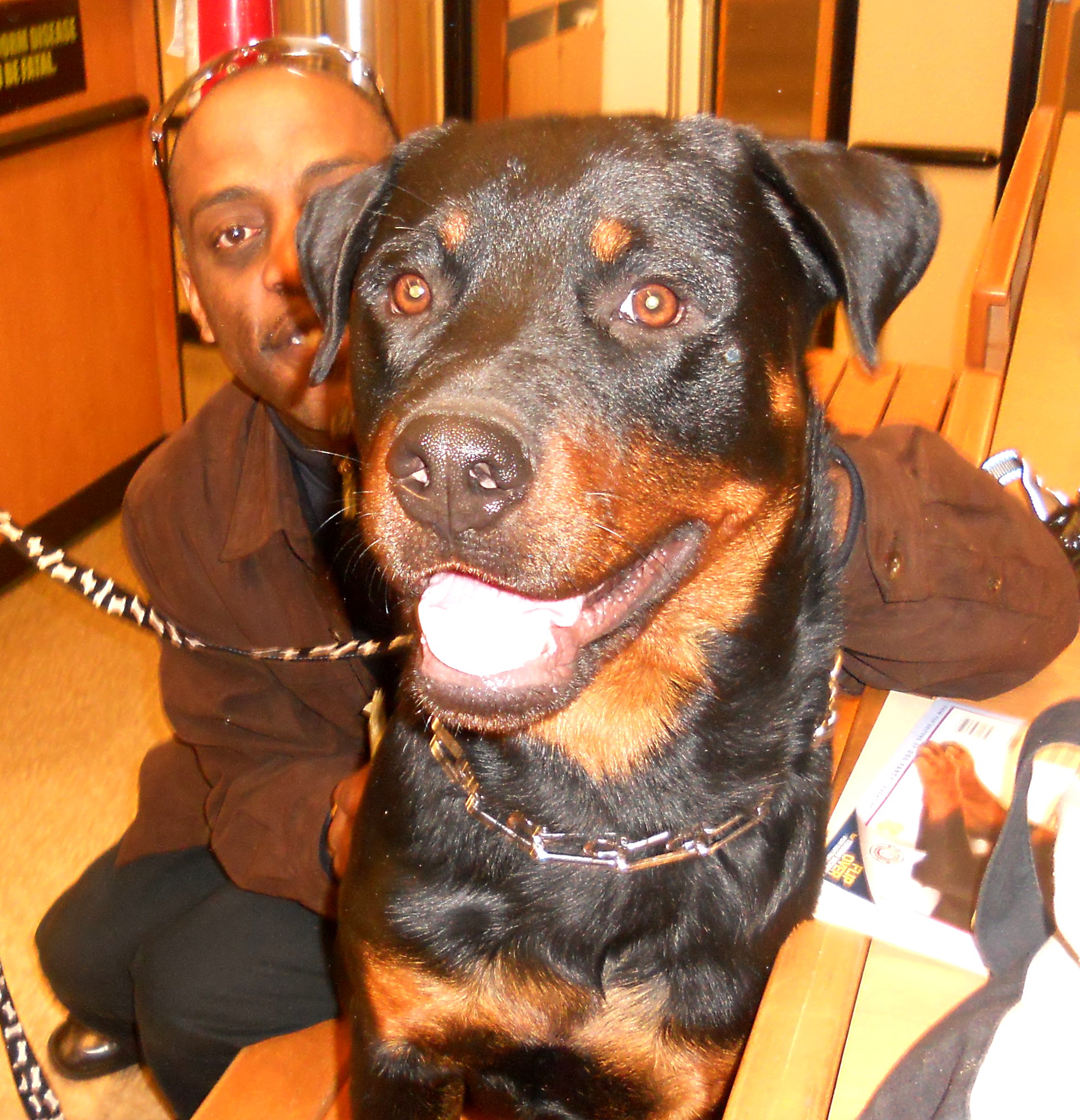 My New DAD !!!
APOLLO has been adopted out to a wonderful family. They fell madly in love with him and he with them. Apollo will be going to his new forever home on Friday. Thank you so much to all the families who applied to adopt him. It was a had choice but I know that we made the right one. Thank you to the Johnson family for always choosing to rescue, you guys are great.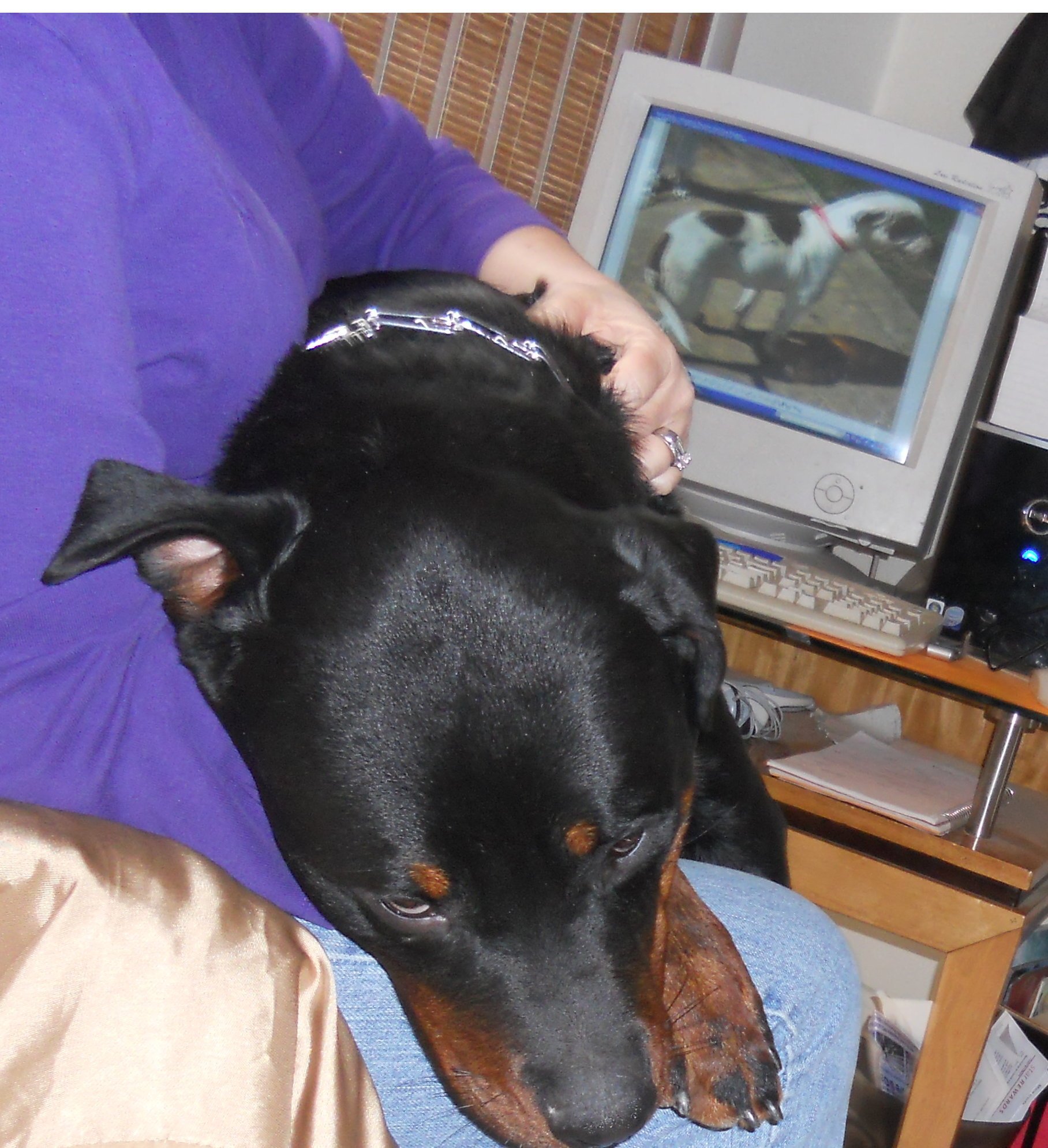 Can you believe this.....
It is the policy of some city and county shelters NOT to adopt certain breeds out to the public. Translation - they euthanize dogs simply because of their breed. This was the case for Apollo a BEAUTIFUL 1 year old Rottweiler that was due to be killed just because he is a
Rottie
. Thank goodness that in every shelter there are caring volunteers that go out of their way to call rescues and find these Death Row dogs a place where they can be safe.
Apollo is a Happy, Healthy good matured Rottweiler. He has a neuter appointment for Thursday and will get
utd
on shots as well as
Heartworm
tested, he is already micro-chipped.
Apollo is a Giant Sugar Lump !!!!
He deserves a loving family, he has so much love to give.
Thank you to the Johnson Family for opening their home and hearts to Apollo
Romeo is back !!! - Adopted !!!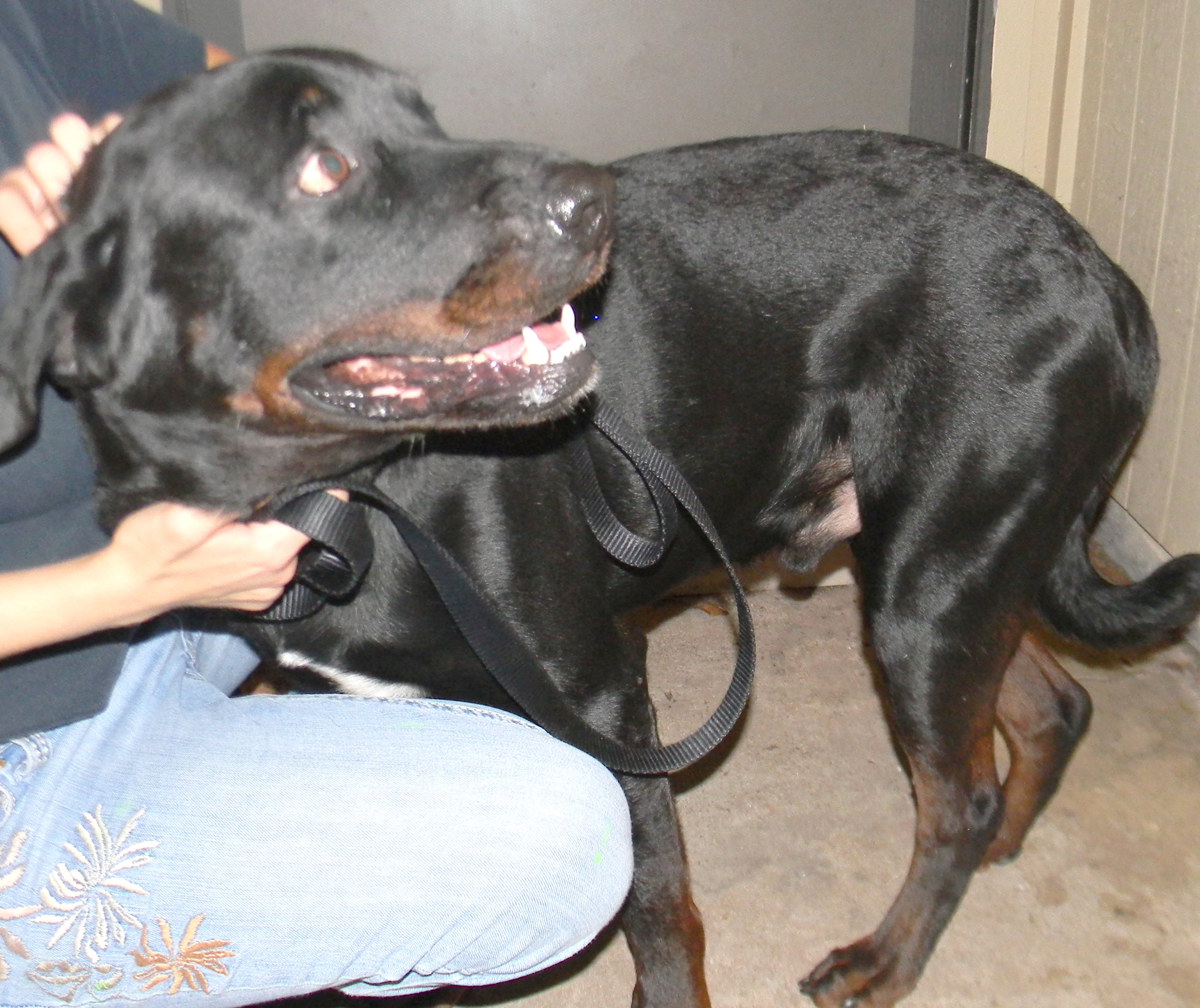 Romeo was adopted out last year, the lady that took him LOVES this boy like her own child. Recently Romeo's mom has had a complicated back surgery and after physical therapy it has been decided that there is no way she can handle Romeo anymore. She is currently in a walker and Romeo is a big, strong, playful boy. She is devistated !!!! She asked if we would take him back and find another safe, loving home for him. We know how hard this was for her, but appreciate that she is willing to think of what is best for Romeo.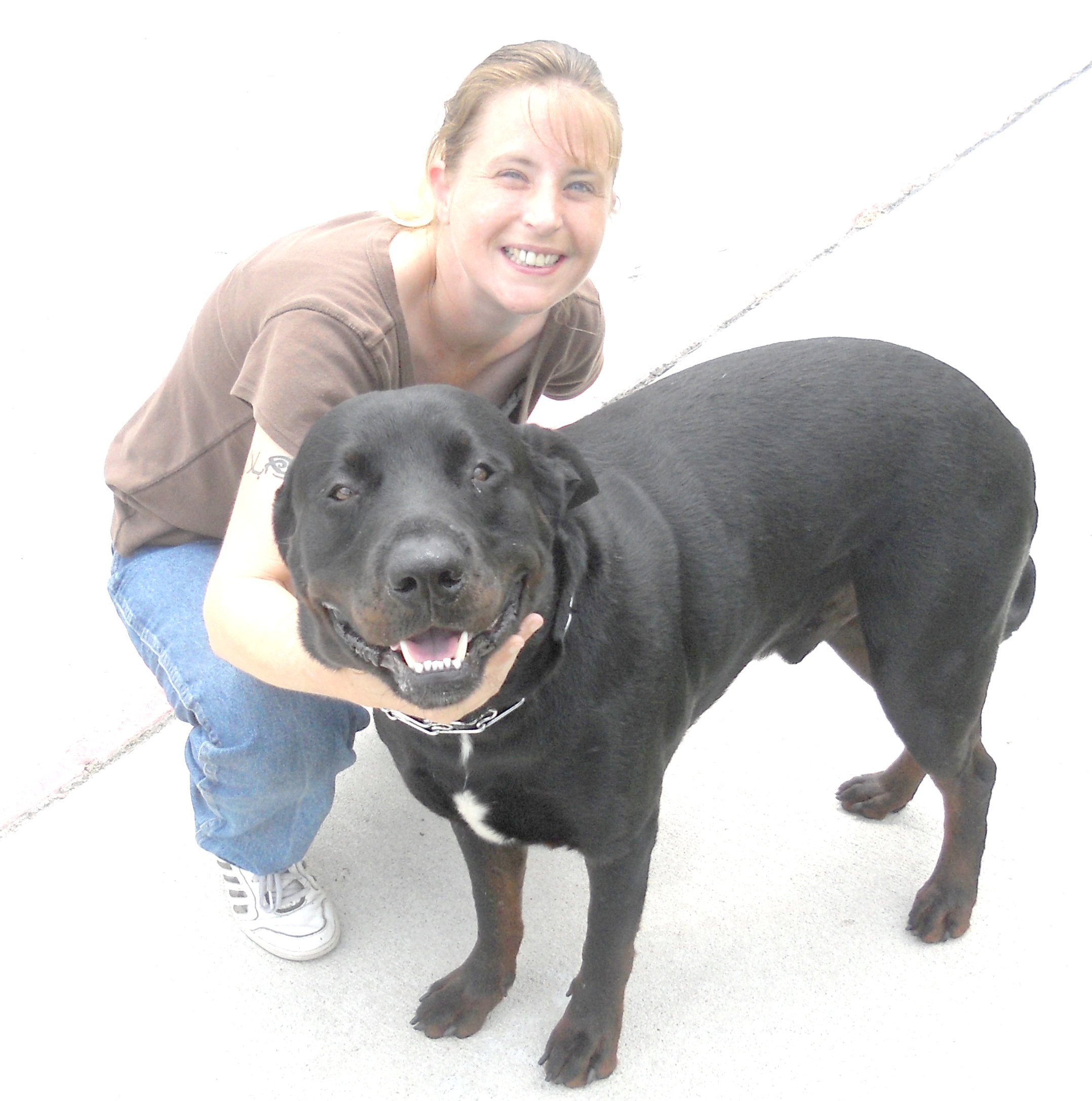 Since he has been adopted Romeo has gotten to be a little spoiled !! We are doing some re-training to address issues like pulling on the lead - she never used a leash with him. Romeo is so sweet and such a cuddle bug !!!! HE loves to lay on the bed and watch T.V with you. He loves his tennis balls and has the all-time sweetest face.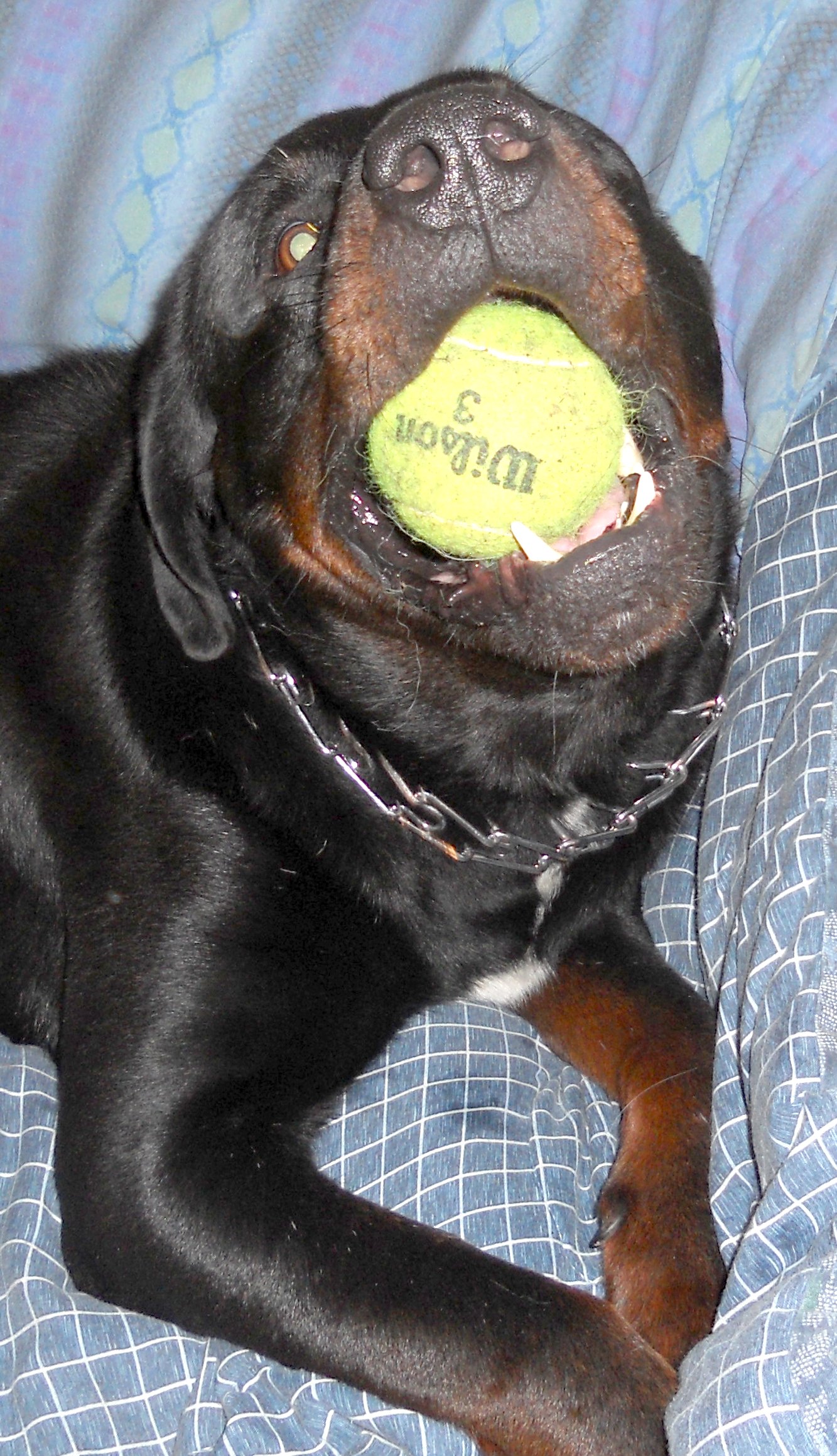 This dog has done nothing wrong, his first mom was in a car wreck after spoiling him Rotten for over a year. Not Romeo's fault - he is so confused and sad !!
Here is our original posting of Romeo !
SWEETEST BOY EVER !!!!!!
Okay we have had Romeo for 2 weeks now and we can say for sure he was abused. This poor, sweet boy just hits the flor whenever there is a loud noise, even a happy noise. He reacts to someone standing over him by laying down and rolling on his back and hugging your feet. He tucks his head down and is very submissive. There is a scar on is nose and he appears to have been grinding his teeth on something, perhaps a chain or fence.
ALL he wants is to curl up in your lap. He really wants to play with the cats, he gets very excited, we are training him - more like trying to convince him that YES, he is TOO BIG to play with the kitty.
He is neutered, housebroken and UTD on all shots, we are really looking for a special loving family to open up their hearts to Romeo, someone who wants a loving companion.

This is ROMEO he is a lover. I have never been a fan of Rottweilers but let me tell you, this is the second Rottweiler in a month that I have rescued from death row and both have been outstanding. Romeo was rescued from a city shelter which is beyond capacity, so....his time was up after only a week.
All this boy wants is to lay his head in your lap. Romeo is a medium size only 80 lbs, but in his mind he is 20 lbs, he truly believes himself to be a lap dog. Romeo is about 16 months old and still has a lot of puppy in him, we introduced him to a red ball today and it was love at first bite !
This dog is nothing but love, everything I thought I knew about Rotties has been proven wrong. There is not a vicious bone in Romeo's body. Romeo appears to to have been abused by his former human, he is sensitive and submissive. He craves human contact and is starving for love and attention.
We are working on crate training right now and he was neutered yesterday 3/8/11. Romeo is utd on all shots and is Heartworm Negative !! I can't say enough about this guy, if you are looking for a lover, Romeo is right here.
Please, this boy needs and deserves to be in a loving home, he gives GREAT hugs
Details -
Romeo has a natural tail and a small patch of white on his chest so he is not a pure Rottweiler, we are not sure what else he is beacause he is such a Rottie !!
ADOPTED !!!!!!!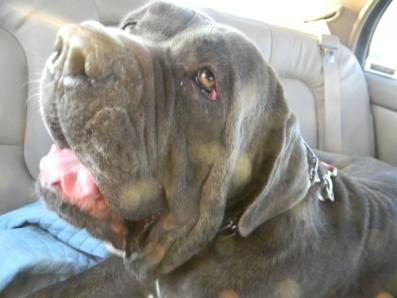 Legion is a 2 yr old Blue Brindle Tiger stripe Neapolitan Mastiff with the most squishy face, sad eyes and laid back personality of any dog you are ever going to meet. His family imploded and some really bad things happened to them and they were forced to give up all their pets. Now, thru no fault of his own, Legion finds himself abandonded at the county shelter !! He was so scared and confused he got sick all over himself.
That is when a shelter volunteer called us , we went down there right away picked him up and took hime to the vet. While at the Vet we got him neutered and Heartworm tested and YAY !!!!! Legion is HW negative !!!!!
He is recovering from his neuter and is ready for adoption !!
If you want to hear more about Legion please call 832-243-6090, if you would like to meet him please go to our website www.jurassucbarkrescue.org and fill out an application and e-mail that to us at jurassicbarkrescue@yahoo.com

This is such a sugar lump of a dog, he love to play hide and seek, where we put a towel over his head and say..." Where's Legion " Then we pull th e towel off and he jumps up, smiles and dances, like he's saying " HEEEERRRREEEE I AM !!"
Legion seem to do well with cats, and smaller dogs, while at the shelter the bigger dogs, like Lab size really scared him.
We are liooking for an adopter with prior Mastiff experience who can help Legion understand it is not his job to protect. He is very wary of strangers but once he warms up to you he is ready to play.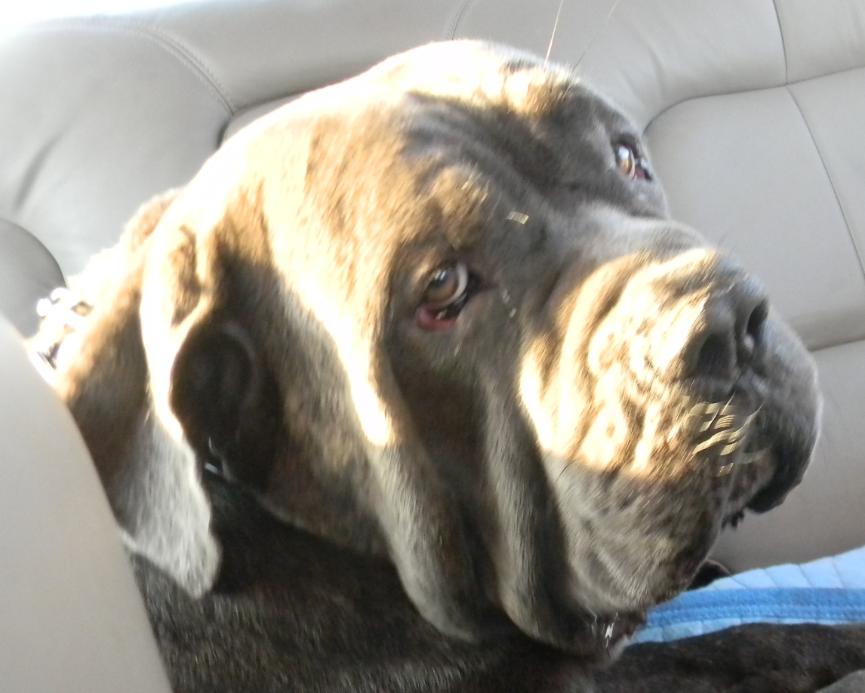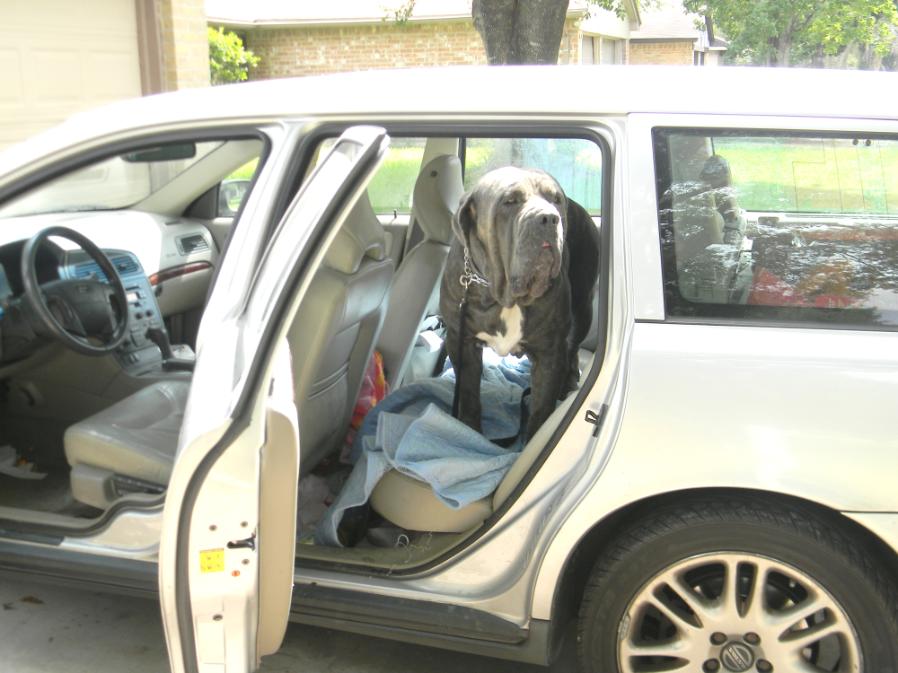 Legion is waiting for YOU !!!
We must stress Legion will only go to an experienced adopted, no kids, on cats and we will look at another dog but we really have to make sure to socialize them. Legion does not do well with strangers and has been taught to keep people at bay, he peotects whoever is holing his lead. WE thingk he has bad eyesight so this makes it even harder. He is DEVOTED to whoever he is with, he has so much love to give, but he needs someone who can deote time and training to him !!!!
ADOPTED !!!!!!!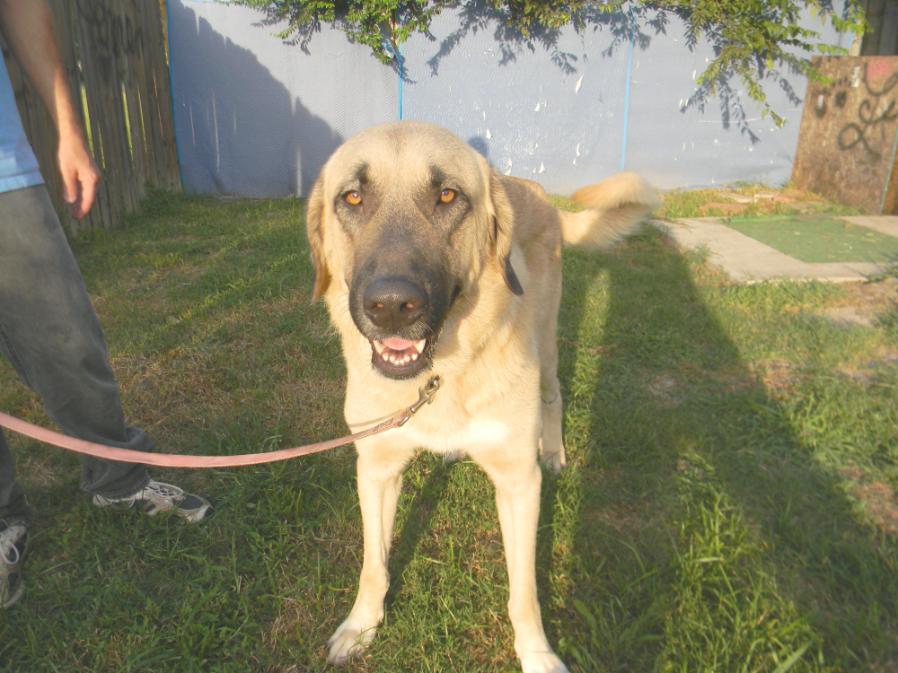 Meet Walker he was rescued from a county shelter this week after escaping from his home for the third time. Each time Walker has shown up at the shelter they noticed that he was getting thinner and thinner, this time - no one came to get him and the shelter did not even try to follow up because now Walker is sporting a scar around his ankle where his former family tried to keep him tied up.
We were called and glady picked Walker up.

Walker is a 1 yr 10 mo old Anatolian Sheperd with a GREAT , CALM personality. He is timid and has been treated badly, he is afraid of sudden movements and raised hands, he ducks when you try to pet him. It is so sad that people can treat such wonderful animals like they do. That being said, Walker has a sweet, trusting disposition, he is good with cats and loves everyone in the house !!

He is skin and bones at 96 lbs and needs 30 lbs put on him ! He is nuetered, utd on all shots, Heartworm Negative and microchipped !! Walker is great on a lead and rides like a dream in a car. This is a loving boy yjthat needs a safe, loving home to call his own where he will want to stay forever !!
Please call Jurassic Bark Rescue 832-243-6090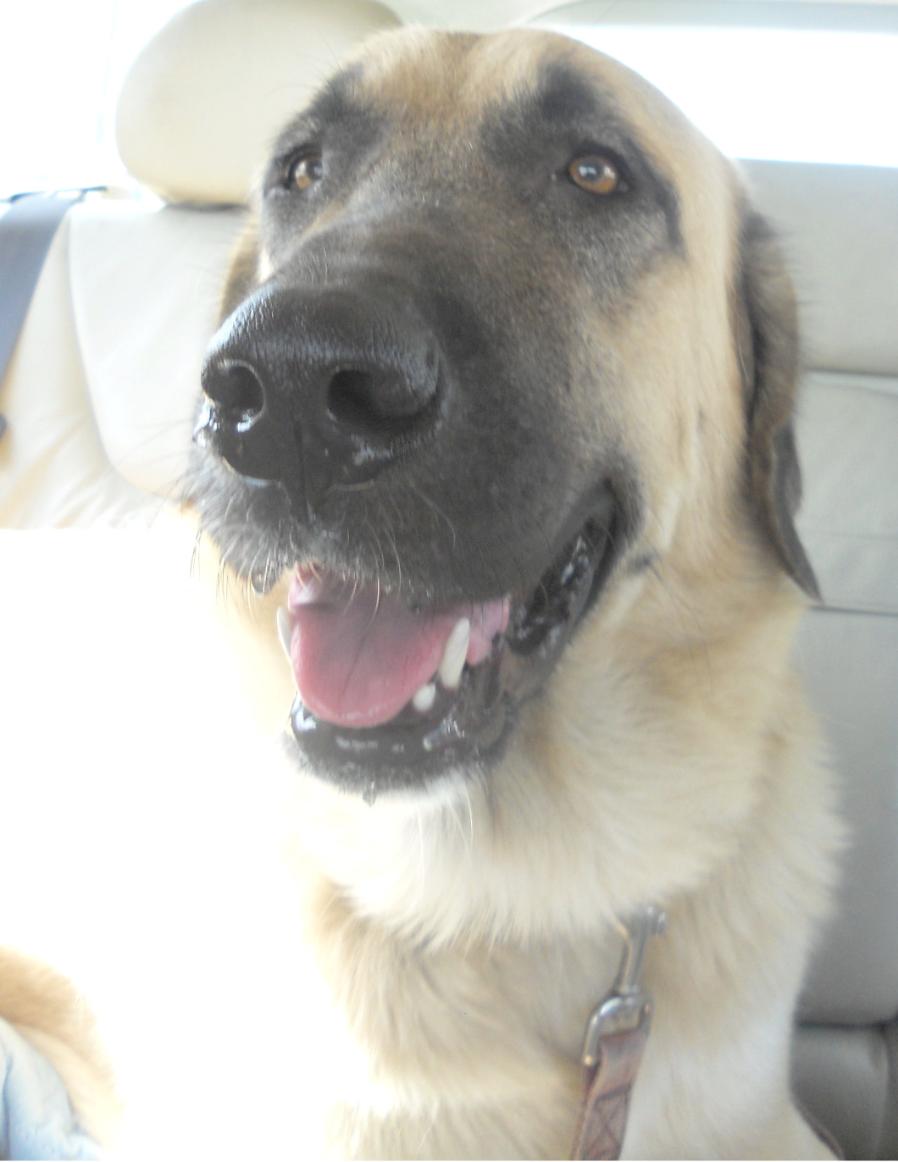 We have recently had some VERY special dogs that were adopted so fast we didn't have time to put them on the Website. Please be sure to check our FaceBook page for up to the minute updates on Rescued Dogs and also posts of dogs needing your help.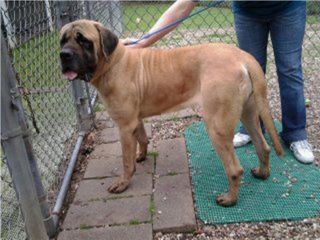 Beth was adopted after 2 years in a boarding facility !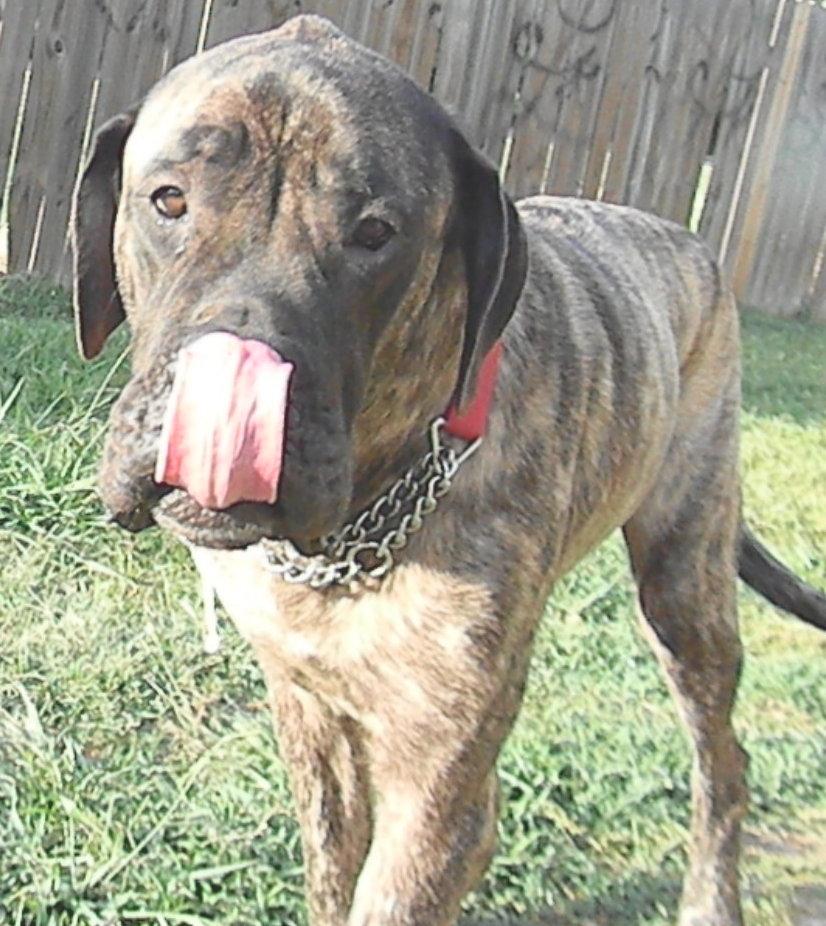 Brock never even made it to Petfinder, he was adoptped by
Jurassic Bark Face Book Friends !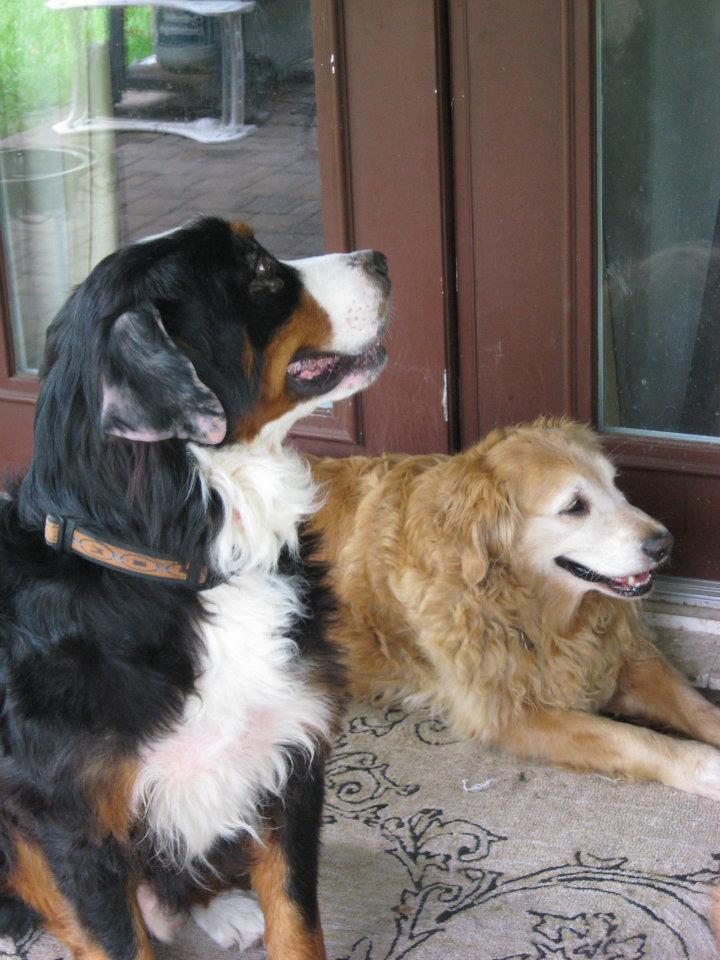 J.D found the greatest home ever, in 1 week, never made it to the website !
ADOPTED !!!!!
This is Fella, about a month ago we got a call from the nicest man who said that a

Bull mastiff

had taken up residence under his

house

. He said the dog looked like there was a problem with his coat and he didn't know if he was hurt or not because the dog would not come out.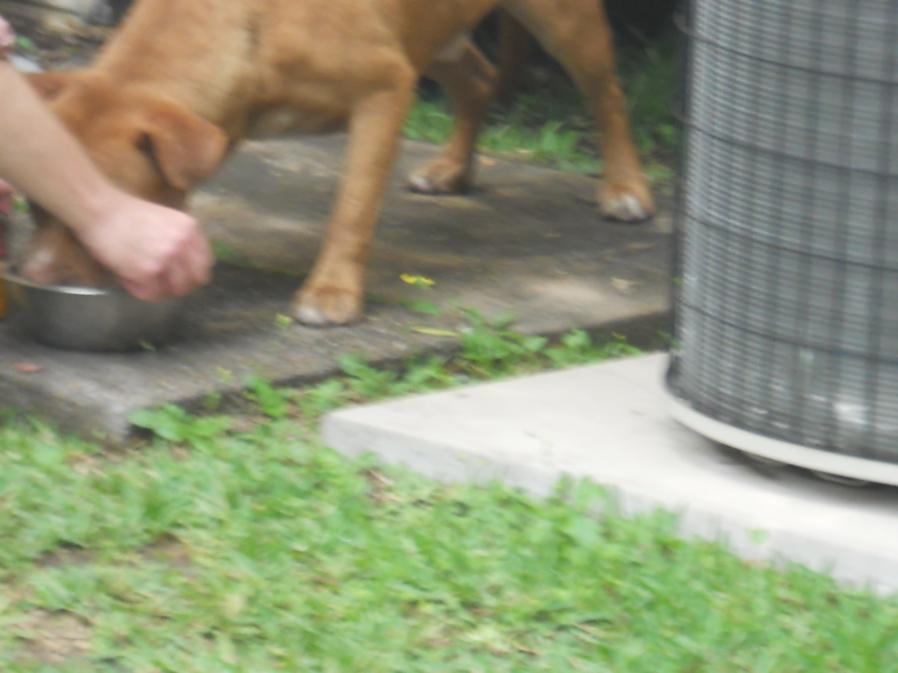 Over the next few weeks Mr. L fed the dog and got him to come just far enough out from under the house to see him, that is when he saw a severe skin infection.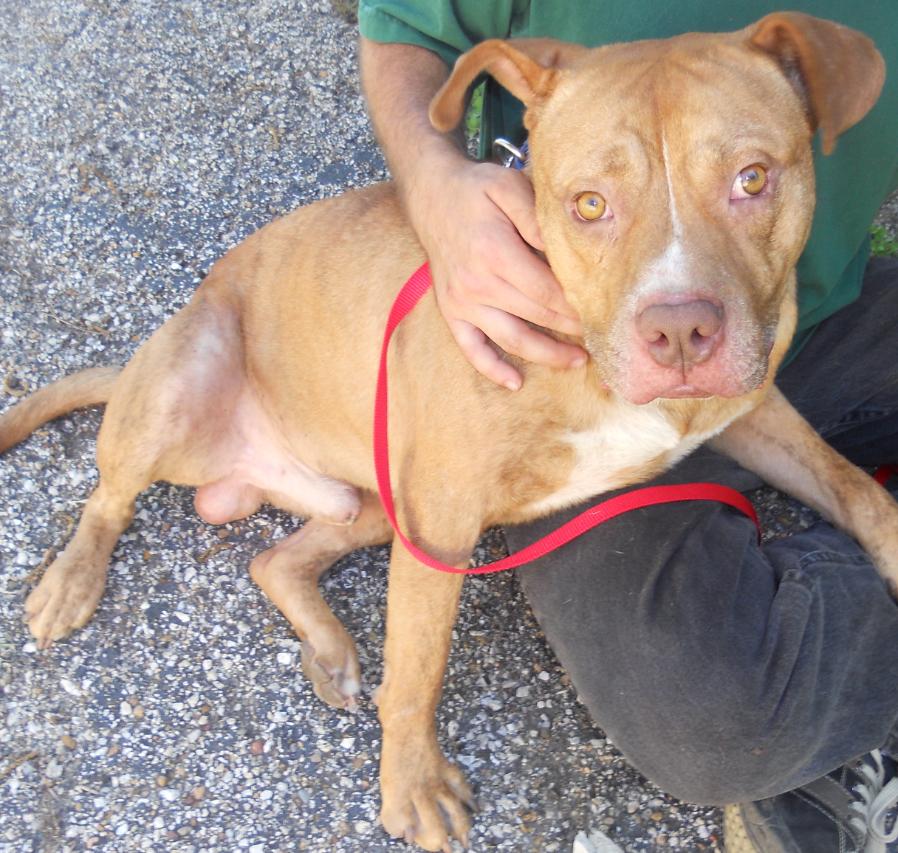 We

started

going over and

helping

feeding and

slowly

Fella began to trust someone. Finally after a month we were able to put a leash on fella and get him into the car and to the Vet.
And now just look !!!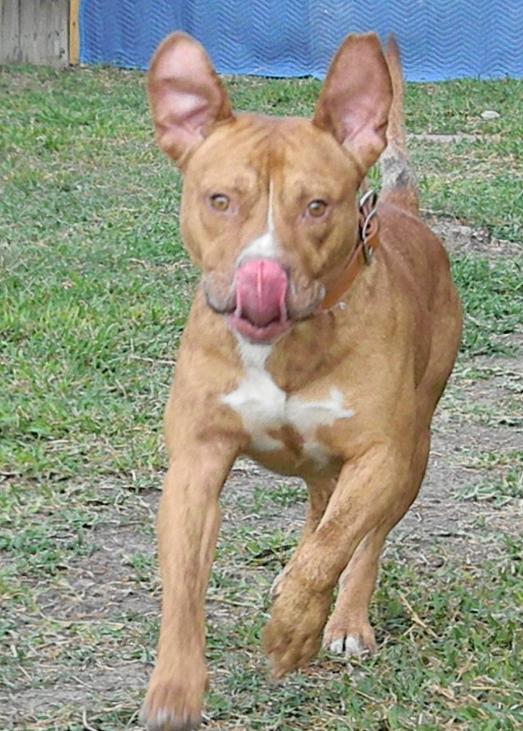 We have cleared up , almost, the flea infestation that caused the skin infection, he is

UTD

on all his shots and we have scheduled his neuter. Fella is about 16 mo old, a Red

Bull mastiff

/American Bulldog/

Pittie

mix with a heart of GOLD !!! He is loving life, playful and curious. Good with dogs and CATS !!! This boy is ready to be your Best Friend !
We do not know what

trauma

caused Fella to hide under the house, we do know he was neglected, he is Low-Med

Heartworm

Positive and we have begun a slow kill treatment. We do know t first he was terrified, and we do know that now - he is ready t be LOVED.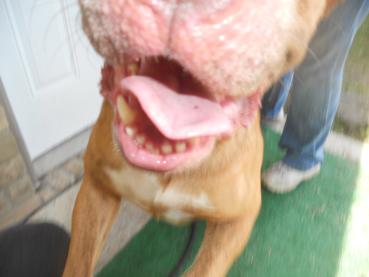 Please give us a call if you are interested in getting more info on Fella. 832-243-6090
Recent adoptions !!!!
ZaZa - Lupita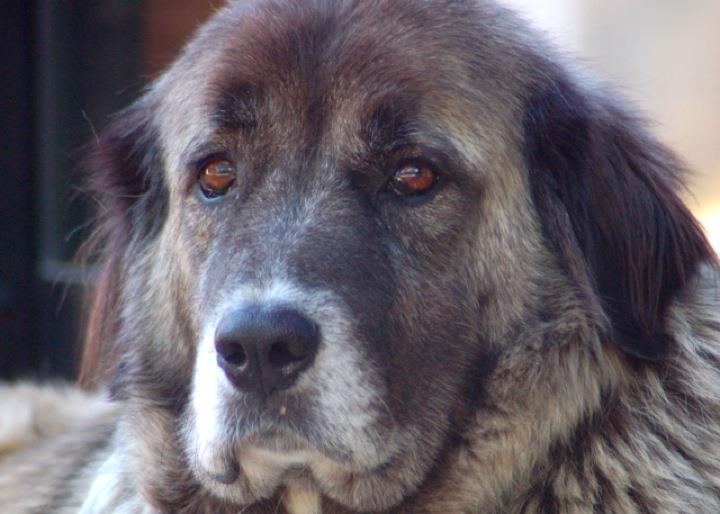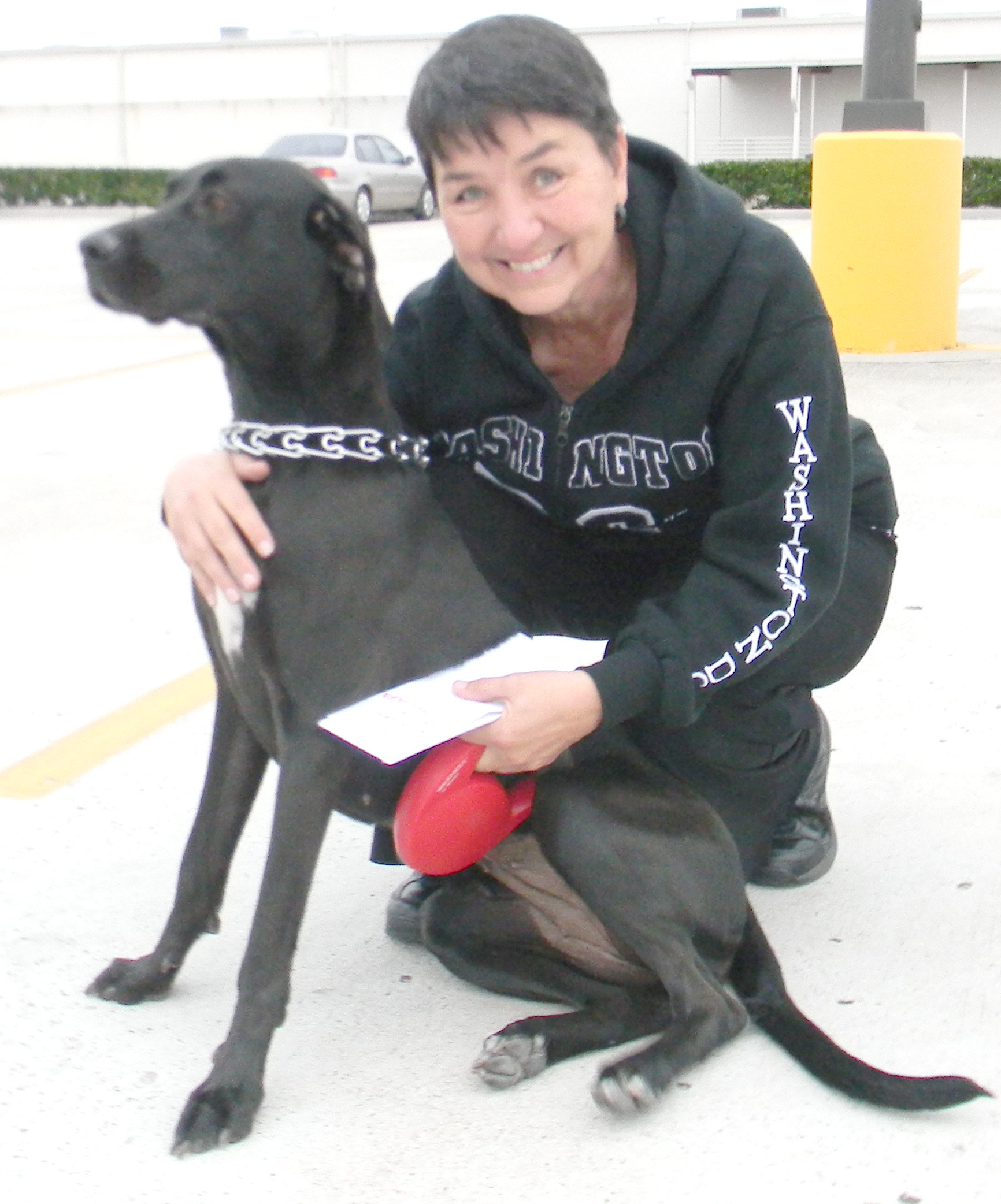 Laila , the Great Dane Lab mix !!!
ADOPTED !!!!!!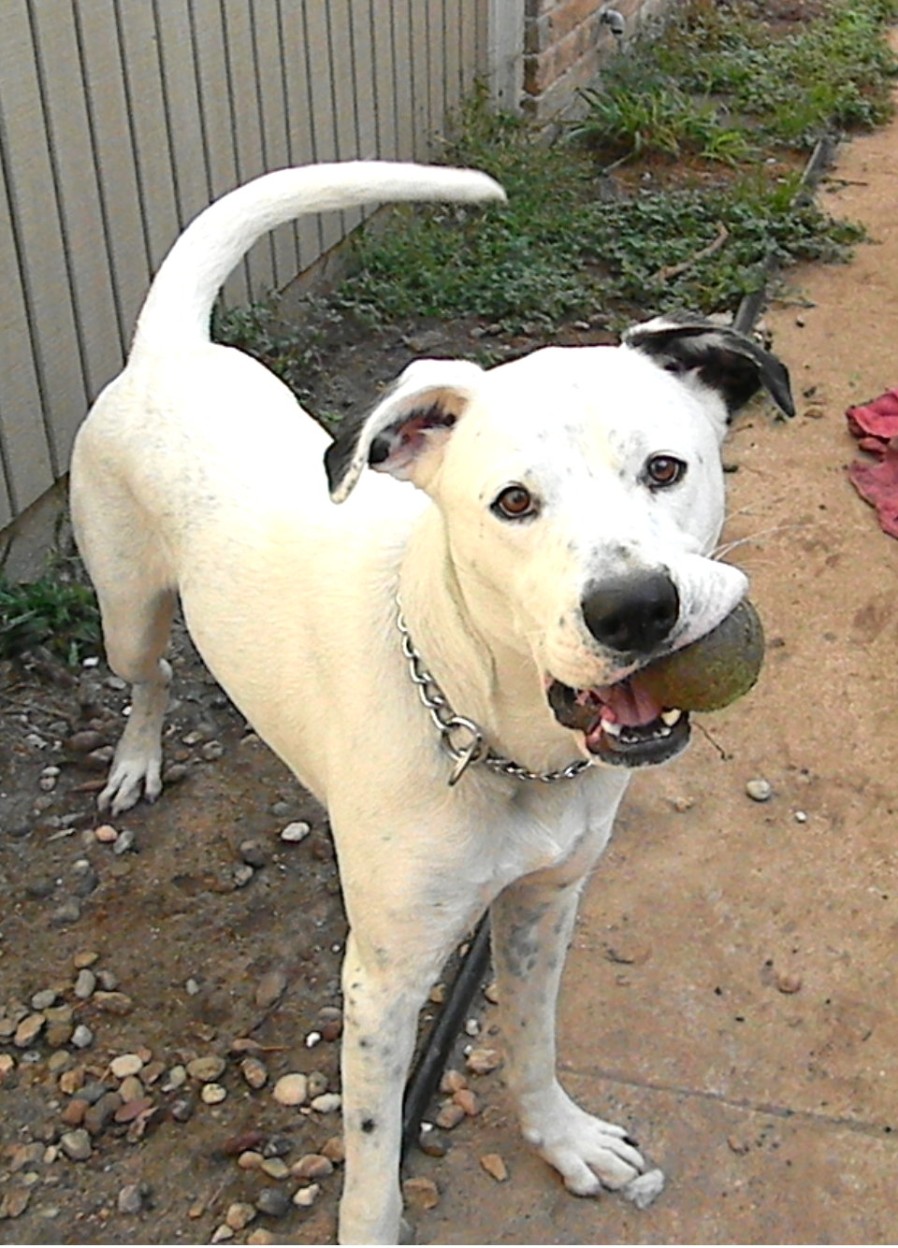 Meet Dozer !!!!!
Dozer is a Great Dane/Dalmation mix we saved from the Alvin shelter, he is almost 1 yr old and just so full of Puppy energy.
Dozer is the class CLOWN, he is so funny, everything he does makes me laugh !
He loves to play and turns everything into a game.
Dozer is house/crate trained, neutered, UTD on all shots and Heart Worm NEGATIVE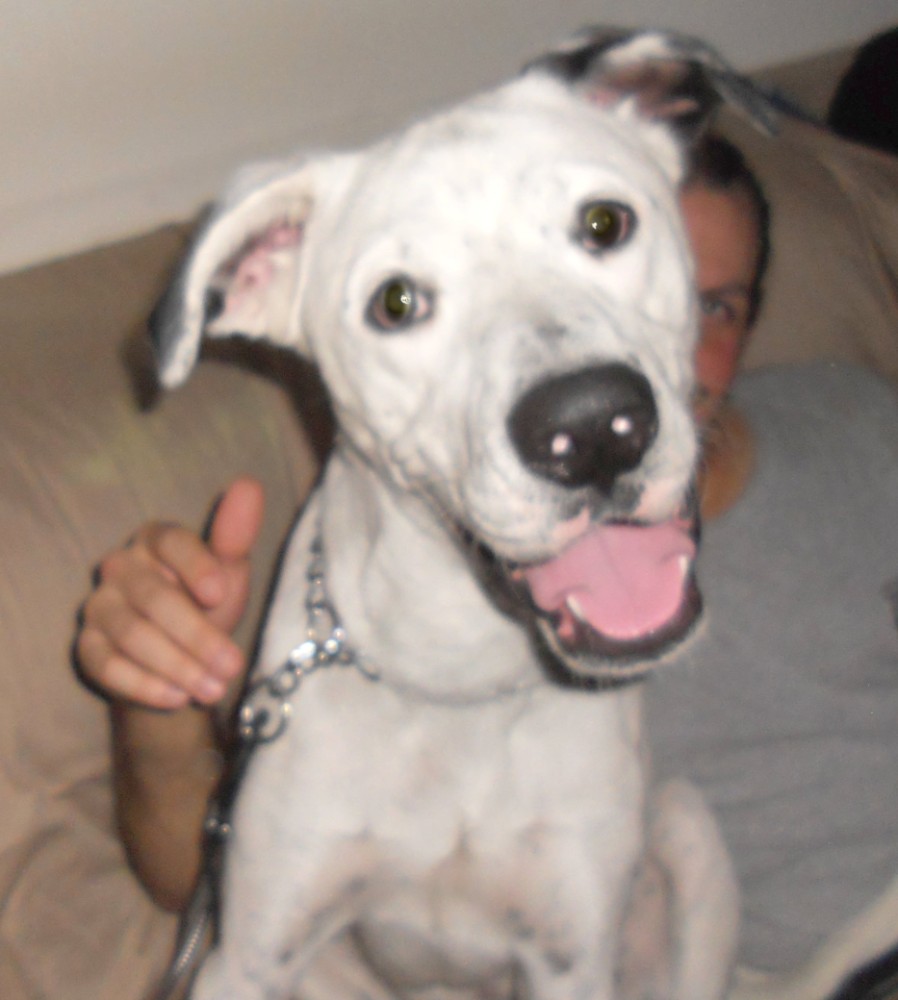 This is a GREATdog !
He is smart and loving and he needs a safe forever home !
Please open you home and heart to Dozer
Jacoby was ADOPTED !!!!!!!!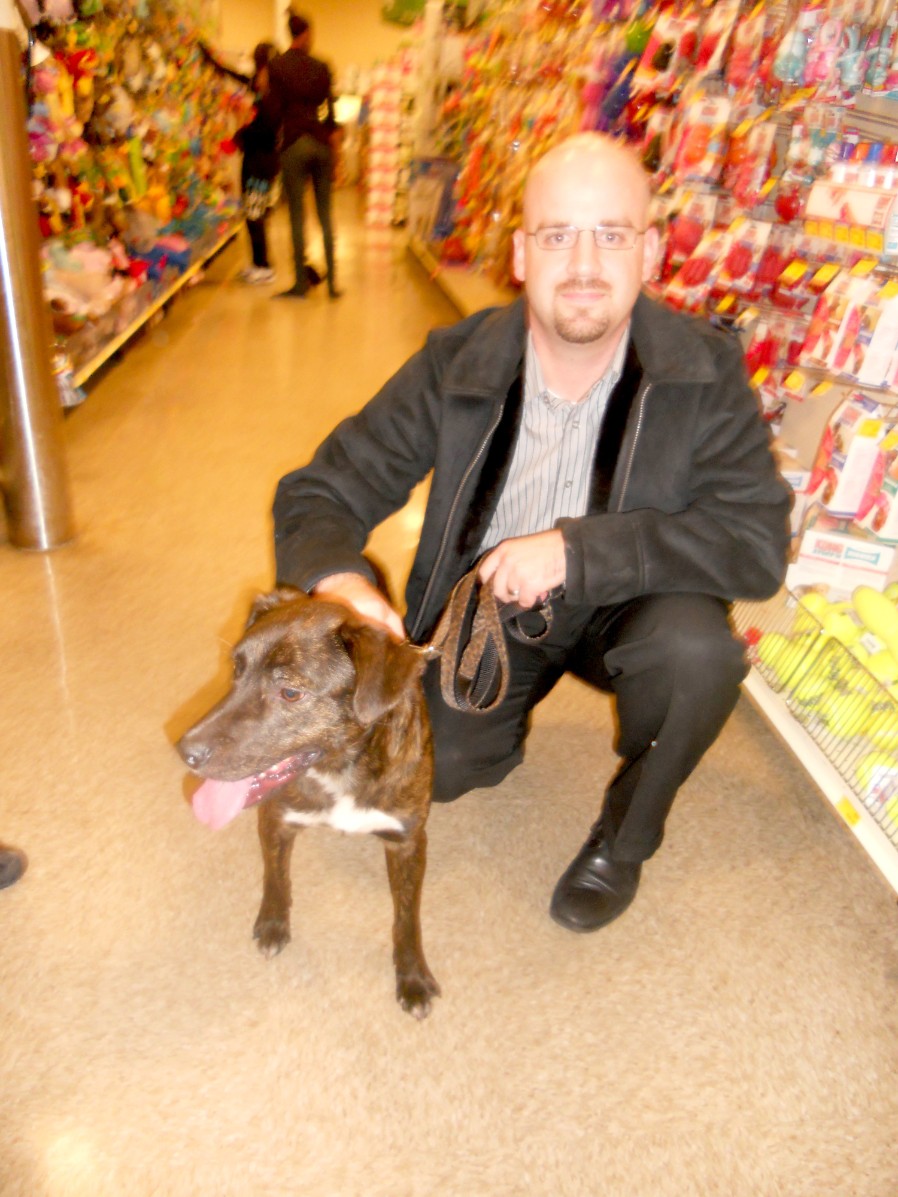 We are still looking for a Holiday Miracle for Jacoby !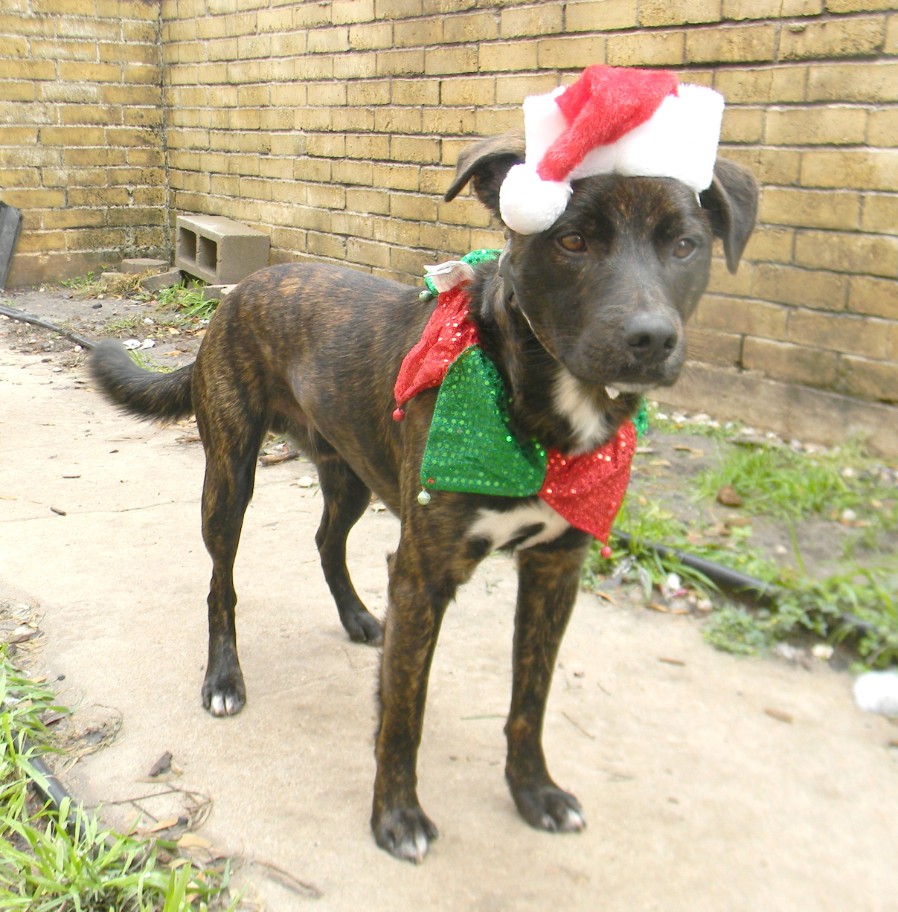 Just look at this face !!!! Can you believe someone gave this guy up. Jacoby was surrendered to the City of Houston BARC. BARC is really full right now, so it wasn't long before his name appeared on the EUTHENASIA list. We don't take many small dogs, but like Ike, Jacoby got to me. He just has the sweetest face.
We picked him up and quickly found thatJacoby is a DREAM on 4 paws !! He is 10 mo. old, house trained and Heart Worm NEGATIVE and I have his neuter scheduled for Monday !! He rides great in a car, even falling asleep !!! And he has no interest in cats !!!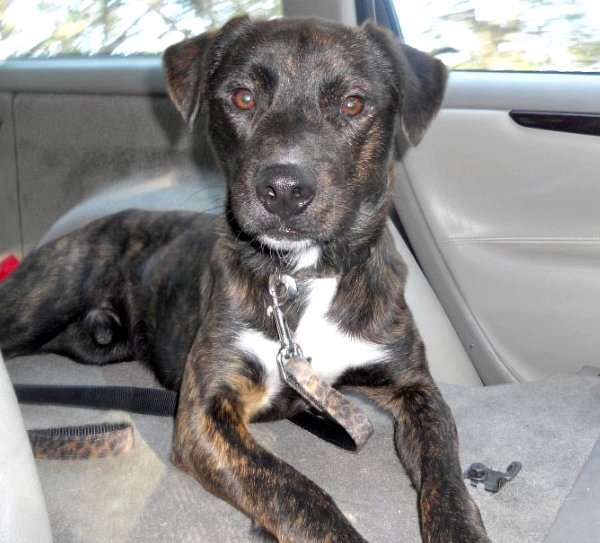 He is BEAUTIFUL and soooo Soft !!! We think he may be Lab/Catahoula mix - whatever he is he is cute and sweet and smart.
He has already learned sit, and we are working on walking well on a leash.
.......Here's TANK !!!! ADOPTED !!!!!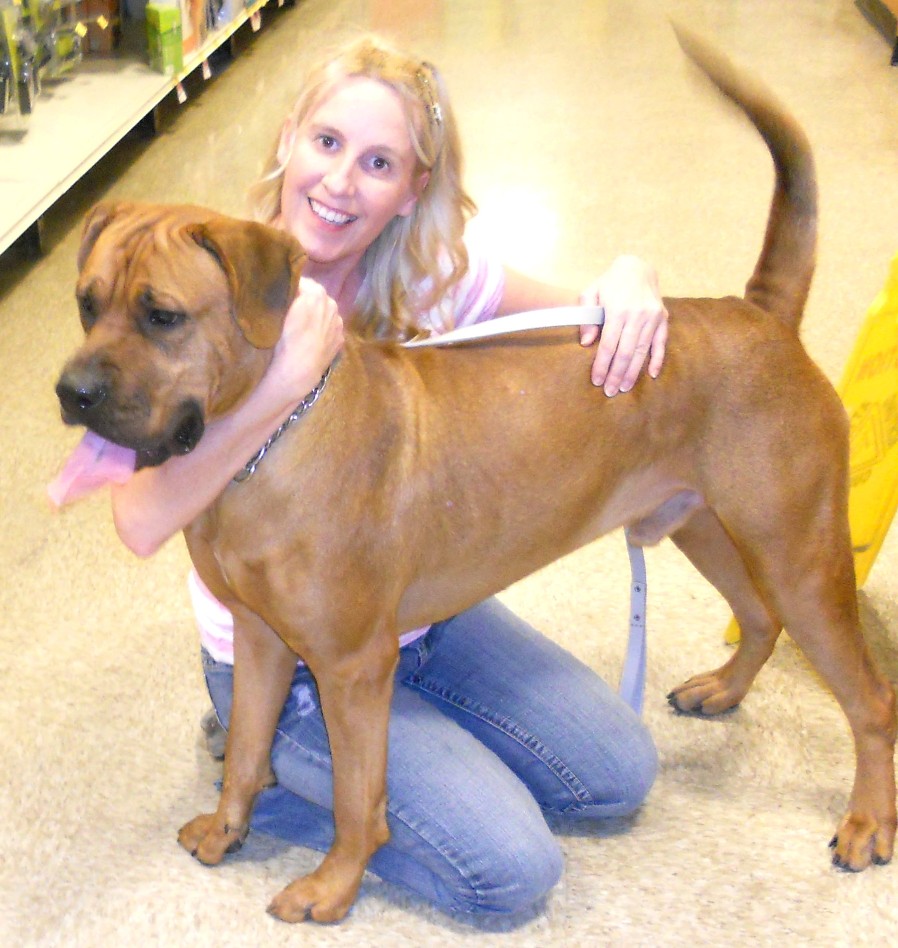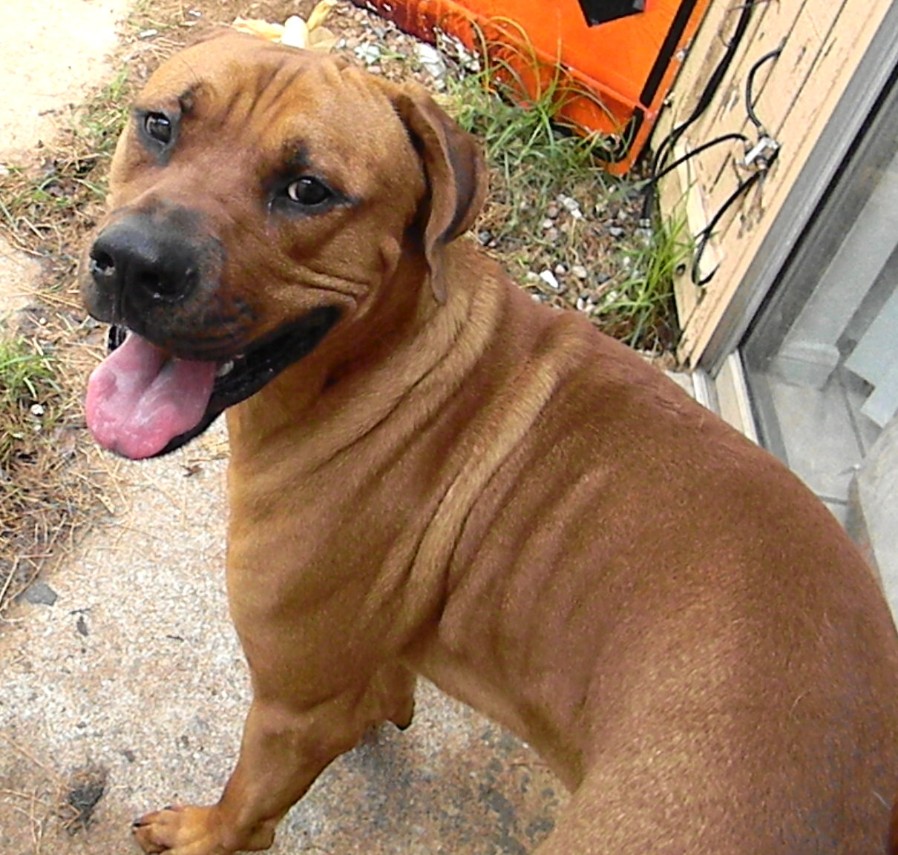 Tank is a SMART, laid back kind of guy. This 95lb Mastiff Mix so wants a home that he followed a jogger and her dog home...and wouldn't leave. The ladies in the neighborhood got worried that he would get hurt and started calling rescues, but before anyone could get out there the city had already come and picked him up. Lucky for all of us there are some really cool people at BARC, all I had to do was make one phone call.
Tank was saved before he ever arrived at the pound !
Tank is house/crate trained, neutered, UTD on shots, good with cats and Heart Worm NEGATIVE !
Meet Ike -man !!!!!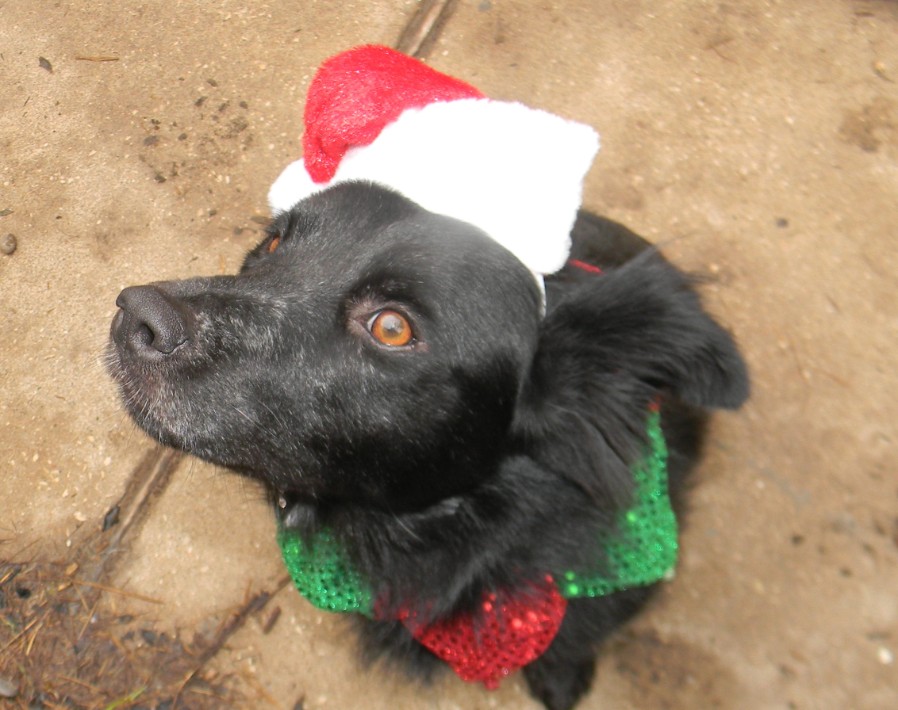 Ike was ADOPTED on Christmas Eve !!!
He is part of a loving family with a brother that was also a rescue and a DAD that takes them both on a jog every morning !!
Ike was rescued from the Houston City Animal shelter, BARC. Ike is not the kind of dog we usually take, but every once in a while a little dog captures our hearts !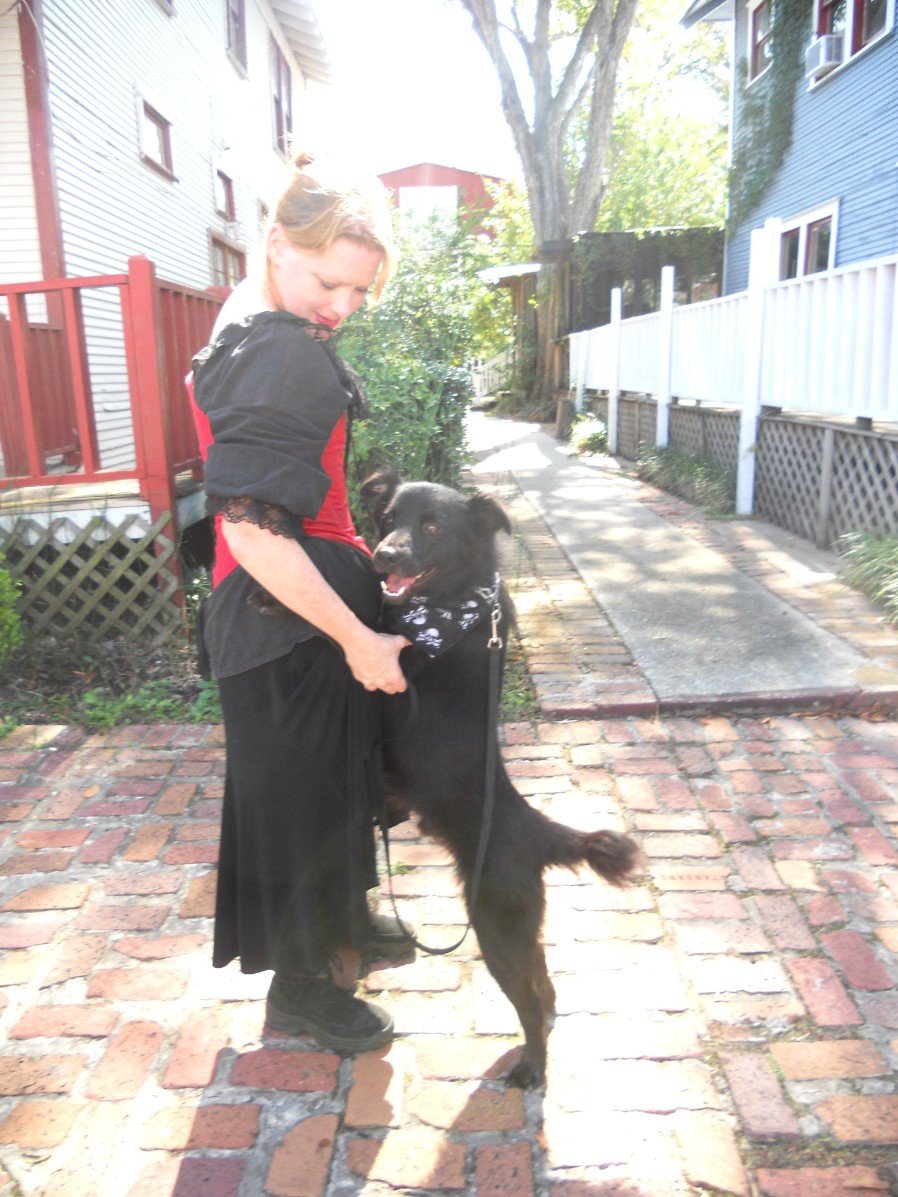 Ike was abandoned in an apartment by his former owner, the landlord called animal control and Ike was taken to BARC.
While at BARC Ike had 2 foster homes and one adopter all fall through, after being neutered and micrchipped he was facing euthanasia. Not fair !!
So we brought Ike home and quickly discovered that he is a DREAM DOG !!!! Ike is house/crate trained !! He only wants to sit close to you. He is calm and quiet and just so loving !!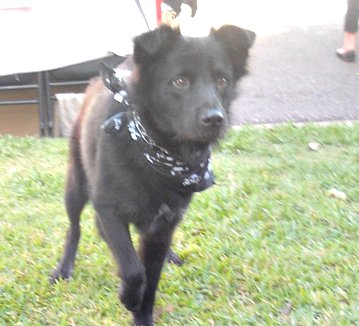 Ike is about 3 yrs old 35 lbs, neutered, microchipped and UTD on all his shots. Ike is Low Heartworm positive which can be easily managed.
He looks like he has some Chow, some Sheherd and some Spitz in him. He is cuious and loves his Rubber Ducky - he likes to float it in hid water bowl !!!!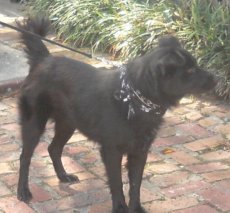 I can't say enough about this little guy, please call us for more details 713-723-5599
ADOPTED !!!!!! Brutis was adopted by a great Family, he is so Happy now !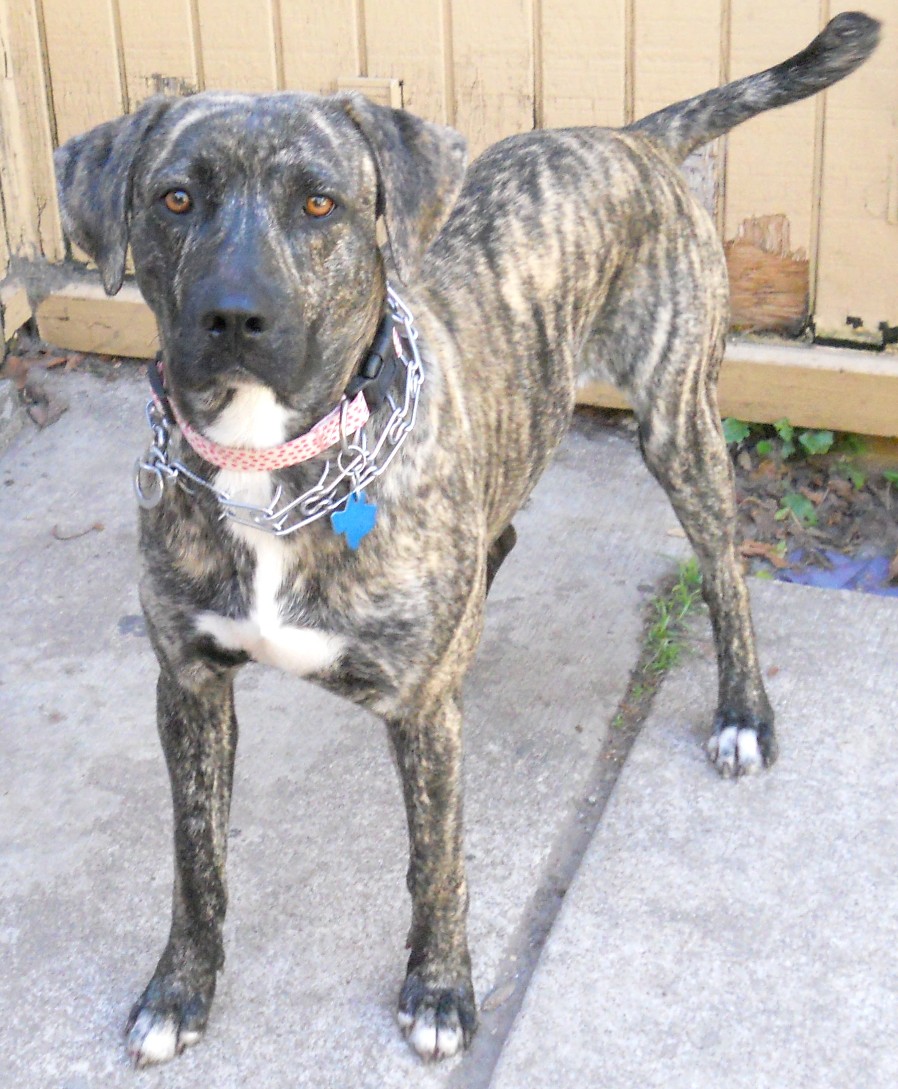 Brutis the Brave Brindle
Brutis will be attending Meadowlake Pet Resort Sept 5th, for one month of Expert training. He will be almost perfect !
HELP
Brutis was a day away from being killed at tiny high-kill shelter,
his time was up and he needed a rescue in the worst way.
Brutis is a sweet dog who wants to please. He was at the shelter for a month, no one came to look for him.
He is afraid !!! All he wants is to lean up against you and be held.
This dog had a home once, he walks GREAT on a lead and it looks as if he may have been trained as a hunting buddy. Please, if you love the outdoors - Brutis is the friend for you !!! He needs a special family - he is a special dog.
He is loving and curious, he does get excited around cats, which is a normal for his breed, so we are require a no cat family for this boy.

Brutis is a 2 yr old medium size Mastiff/Plott Hound
He is striking !!! Brutis is UTD on shots, neutered and HW negative !!*** Brutis needs an experienced adopter who can run and play with him, his intrest in cats is normal for his breed so we suggest training to manage this instinct.We have provided one month expert trainiing starting Sept 5ht to help !He is an execptional dog with a great personality, he is not aggressive or distructive. He is smart and wants to learn. He is a trainers dream dog.
Brutis, a young mixed breed from Jurassic Bark Rescue, began his New Leash on Life at Meadowlake.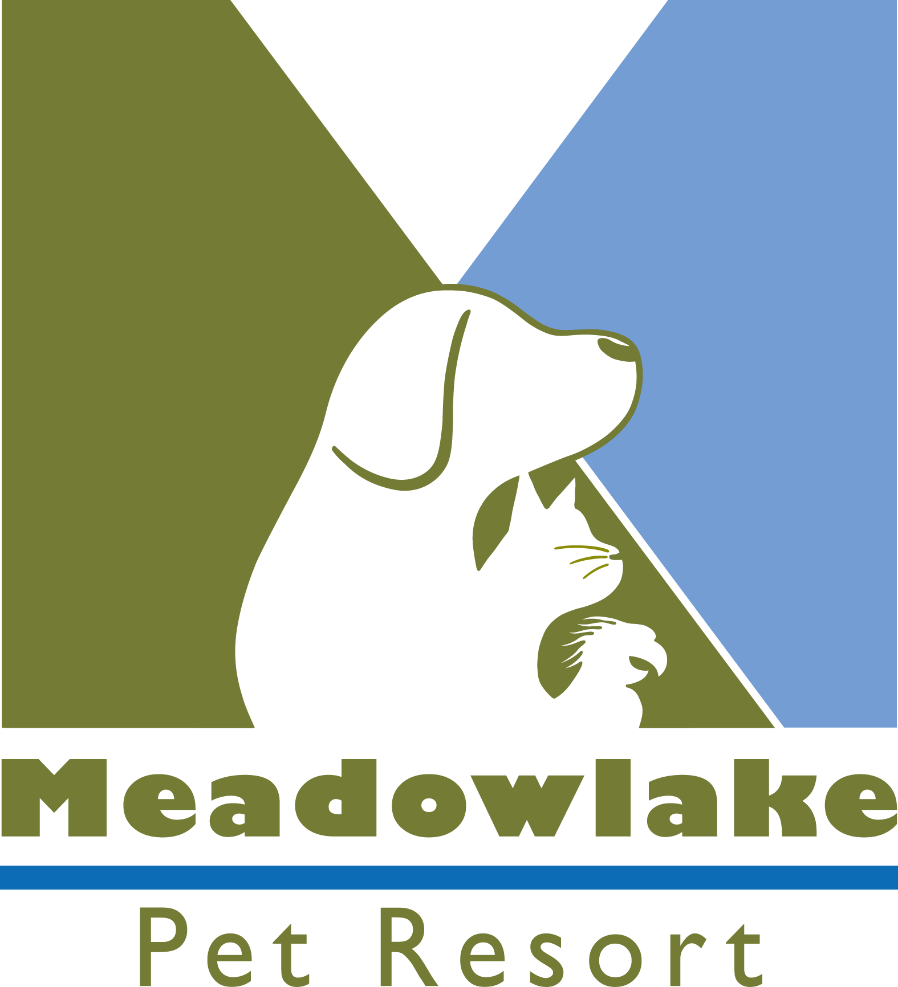 Brutis will undergo 30 days of free training and boarding while Jurassic Bark Rescue continues a search for his forever home. During his stay, he will learn basic commands such as sit, stay, down and basic manners such as coming when called and proper leash walking. Meadowlake Trainer Tori Hankey, CPDT-KA began working with the gentle giant and found out pretty quickly that he loves to learn. Brutis is such a sweet guy, full of love, and patiently waiting for someone to find him! He definitely needs a backyard where he can run around and then lay in the sun! His favorite part of this week at Meadowlake? His private patio access where he can meet his neighbors and sunbathe in this wonderful weather!!

Brutis was found at Nacogdoches Animal Shelter. The pets that end up at this particular shelter aren't so lucky, so Jurassic Bark Rescue had to act fast! A volunteer from the shelter transported the 1.5 year old, believed to be a full blood Mastiff, to a temporary foster for Jurassic Bark Rescue. After taking him in, Jurassic Bark Rescue realized that he is not a Mastiff after all! Whatever his blood line may be, he has striking features including a beautiful brindle coat and those light brown eyes! He would love a home with a big backyard so he run but absolutely no cats! For more information on Brutis please contact Jurassic Bark rescue at jurassicbarkrescue@yahoo.com.
ADOPTED !!!!!!!
LuLu found her FurEver home she is safe, loved and being spoiled !
LuLu - her Spirit could not be Chained !!!!!
LuLu was part of a pair of dogs chained up 24/7 at a used car lot. Stinker Bug, her friend was adopted out last month and now it is LuLu's turn !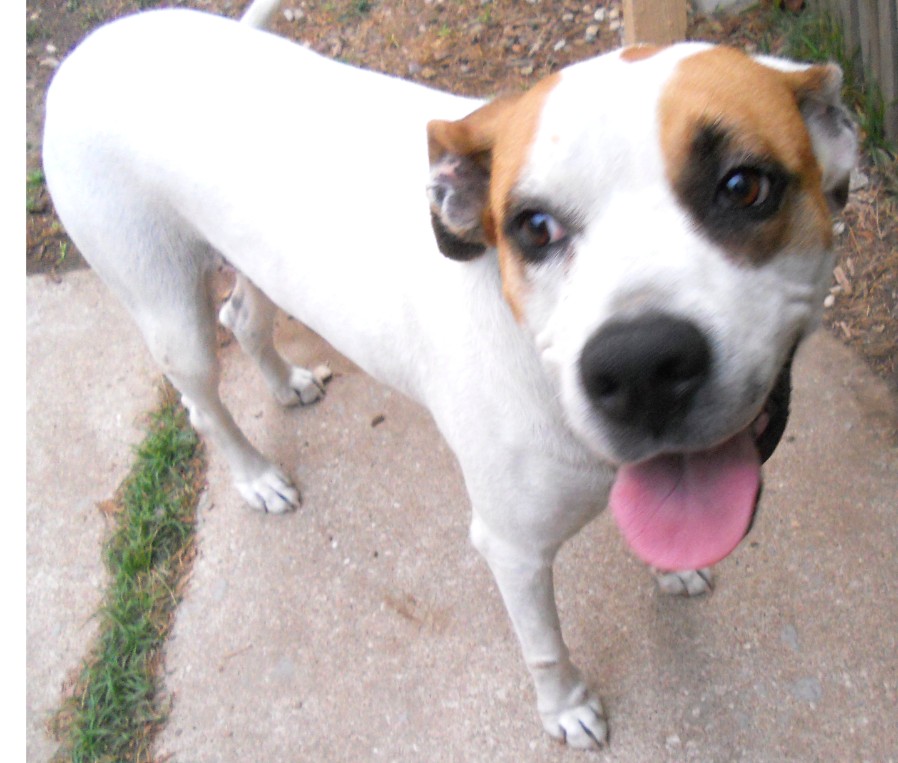 I was at a used car lot - have been threatened that if I post the name of the lot that the owner will sue me, anyway, there were 2 medium sized, unremarkable looking ,normal, friendly dogs...chained to the front porch.No food, no water, filthy and underweight with sores and open wounds. That was last month, since then Stinker has been adopted. LuLu has been spayed and is utd on all her shots. She is learning to play and trust and really loving freedom !!!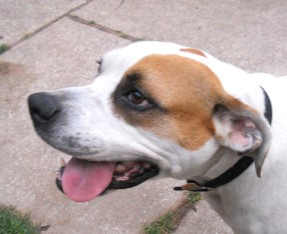 LuLu has an intense look in her eyes that refects all she has been through but she also has a joyful heart and a pure srtong spirit. She is smart and loving and ready for her safe forever home.
LuLu is a SURVIVOR !!!!
This girl is smart and loving and funny !!!!
LuLu is about 65lbs, a Staffordshire/Bulldog mix,
She is crate trained, housebroken and an adopters DREAM !!!
LuLu, is a thinker, she has been thru so much and learned from all of it. After everything - she DESERVES a family, she will love you with all her puppy HEART !!!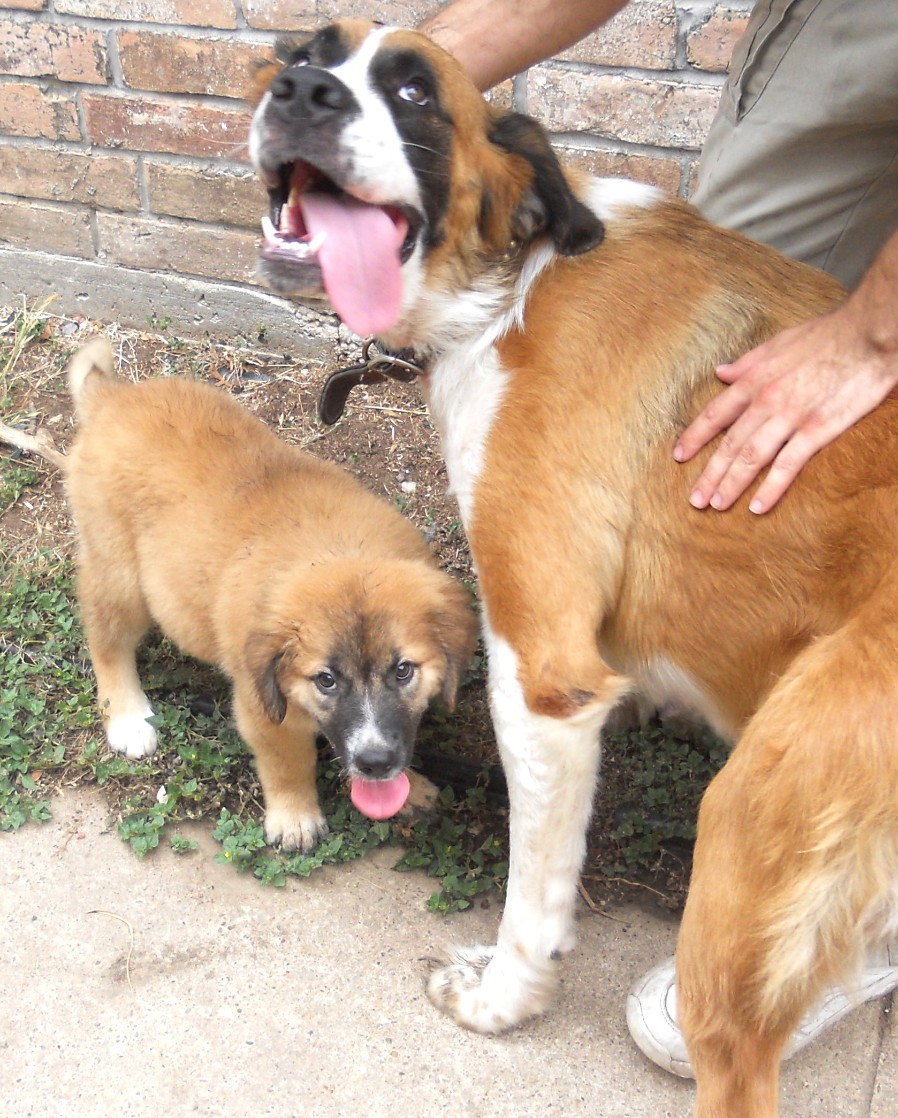 ADOPTED !!!!!!
Meet Mom Sadie and Baby Belle
This beautiful Saint Bernard momma and pup were rescued from a kill shelter last week and are looking for a forever home.
Sadie the momma is a pure Saint Bernard weighing in at 93 pounds, when we picked her up she had a Hemetoma on her back, but we took her to the Vet and she is 100% now !!!!
Sadie will be spayed Aug 24th
And she is Heartworm Negative !!!
Baby Belle is a Saint Bernard mix and just as cute as can be !!! She has had her first set of shots and is fat and healthy !! Belle goes back or her next set of shots next week.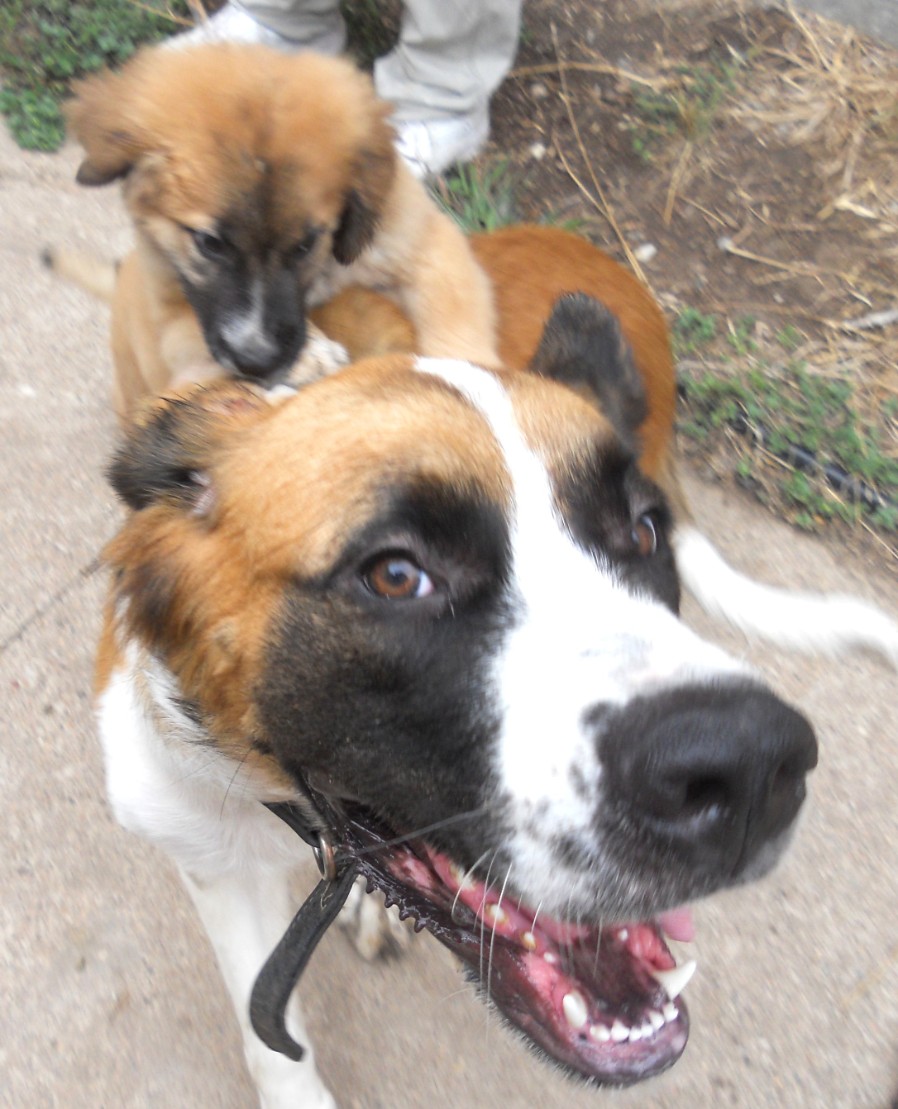 Both girls are loving and playful !!! We would like to adopt them out together, but know that is a long shot. We are just looking for loving, safe forever homes, either together or apart.
So far they are digging a hole to China in my side yard and their favorite hobby seems to be MUD !
They both have a GREAT personality and are
Crate and House trained!!!!
Please consider Sadie and /or Bell as an addition to your family, you won't be sorry !!
ADOPTED !!!!!!!!!!!!!!!!!!!!!!
Stella, the Stunning Has A New Home !!!!
Inner Beauty - Kicked to the Curb after BREEDING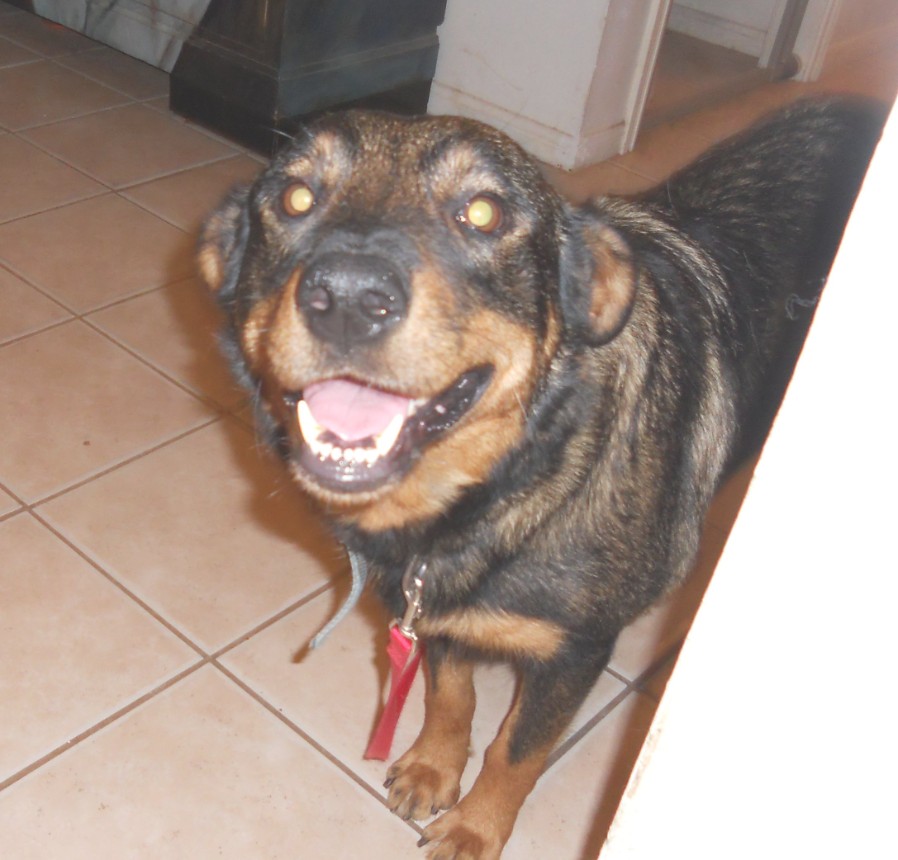 Please look at Stella, although admittedly it might be hard. Stella may not the girlish figure she once had - who does ? But Stella hads a better reason than I do, Stella has been bred past the point of reason.
At 3 years of age Stella was most likely kept in a very small space and forced to turn out innumerable litters of puppies and now that she is past her breeding prime she is no longer a desirable product.
Stella was dumped and taken to the city of Houston

BARC

facility where historically only the prettiest and healthiest survive to be adopted.
It was determined at BARC that Stella was too fearful and would NOT be a good candidate for adoption, what that translates too is either a rescue must take her out of the shelter or she is put down.
Up to this point her life was all about breeding, we could not let her life end simply because she was too afraid to trust her human captors.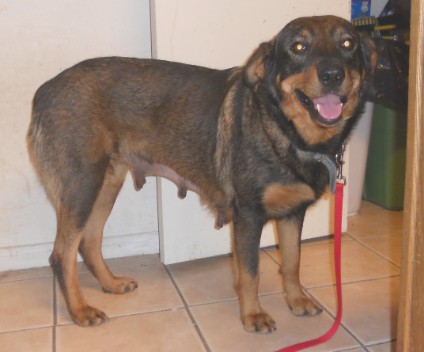 Because of her hardships Stella has never learned to trust and never learned that a human can be a dogs best friend. Stella survived breeding, now she deserves a life.
In the short time we have had her she has blossomed !!! She is smiling and walking with her head held high. She helps me cook every night and loves to take walks down to the park. Stella is up to date on all her shots, micro-chipped and spayed. Stella is Low Heart worm Positive and we are treating her for them.
She is so loving and now deserves a safe home where she can simply live her life.
Stella - Update -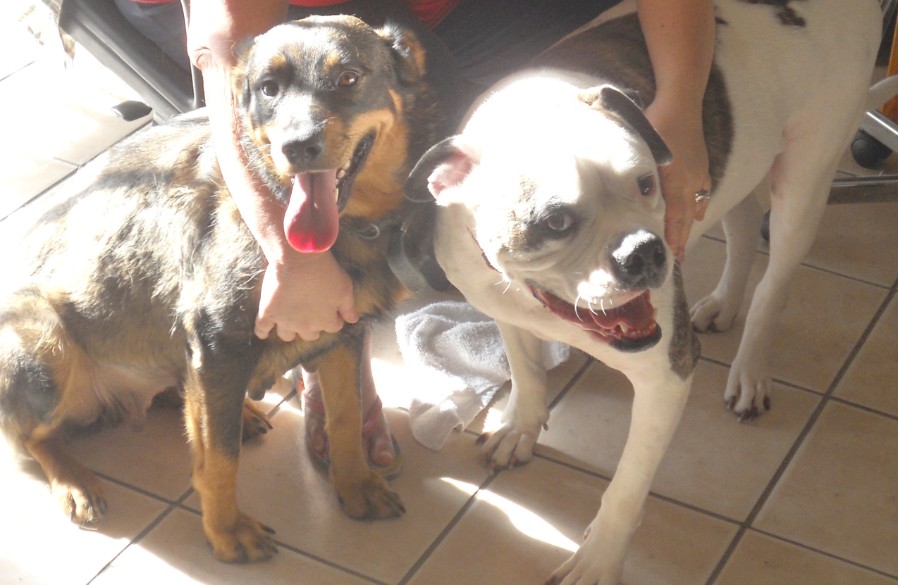 Stella is doing so well, she has overcome a lot of her shyness and fear and now has a new friend Petey Pie.
Stella wants to be loved and she is ready a family !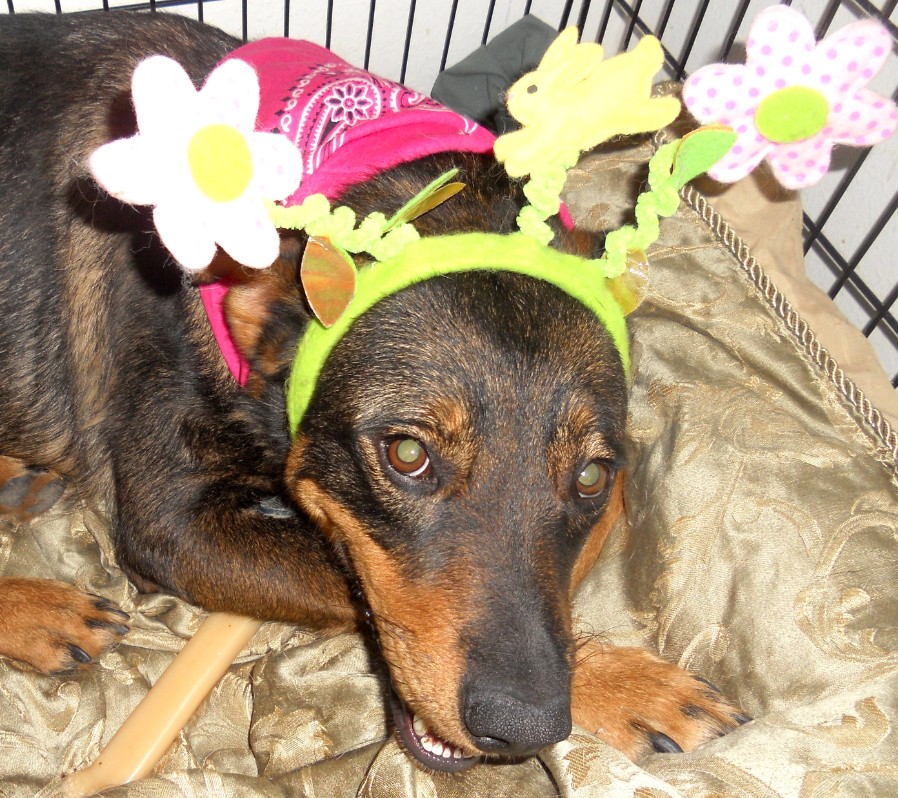 Despite her life thus far Stella has NO behavioral problems, she is just shy.
Stella needs a safe, loving family -
a place where she belongs and a soft bed.
Please consider Stella
ADOPTED - YAY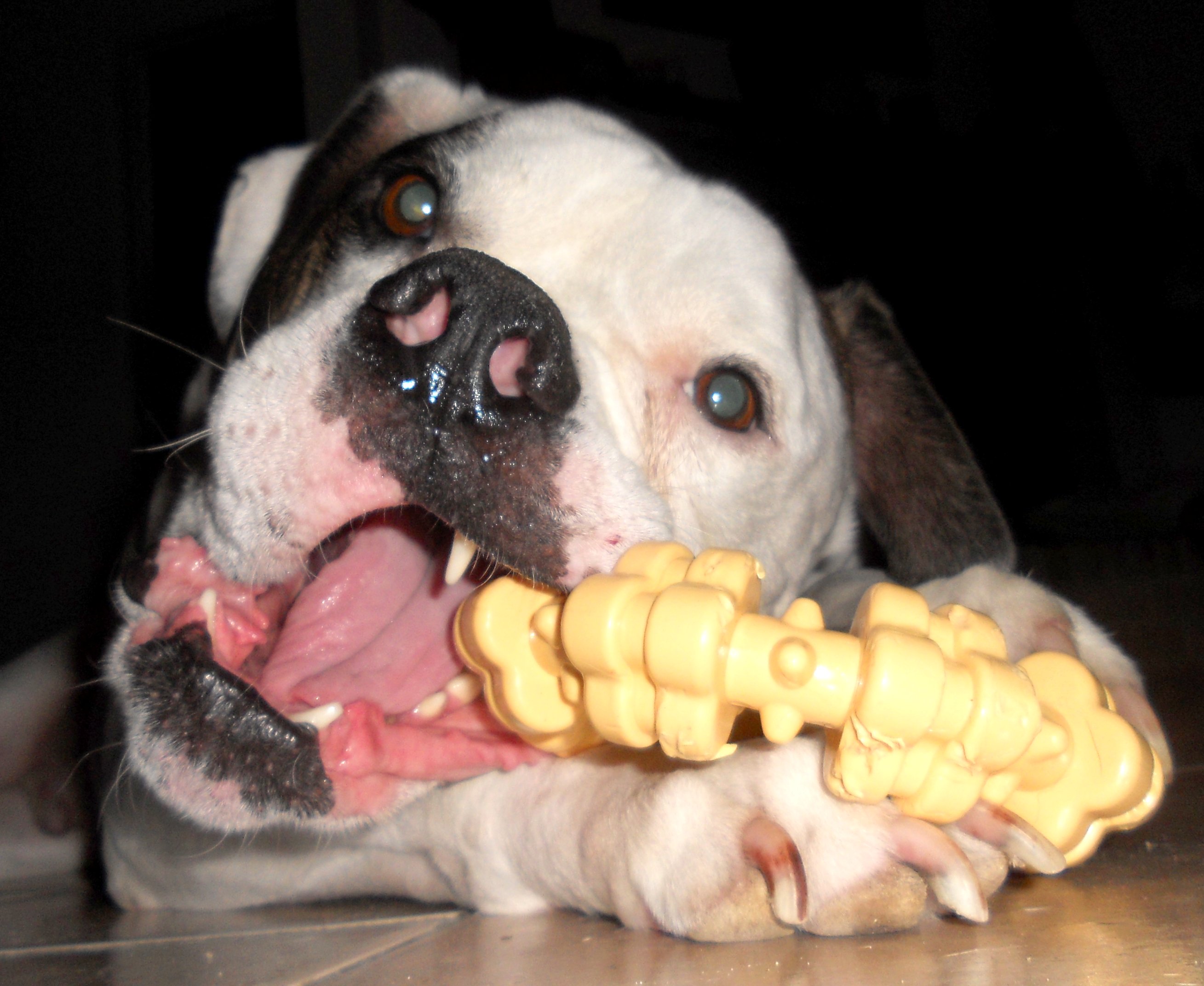 - ADOPTED
King Petey Pie is a Sweetie Pie !!!!!!
AND NOW HE HAS A NEW HOME !!!!!!
This is the most remarkable dog !!! I cannot say enough about how social and funny and smart this dog is !!!!! WOW !!!! Petey makes everyone SMILE !!!
This boy has so much love to give he is perfect !!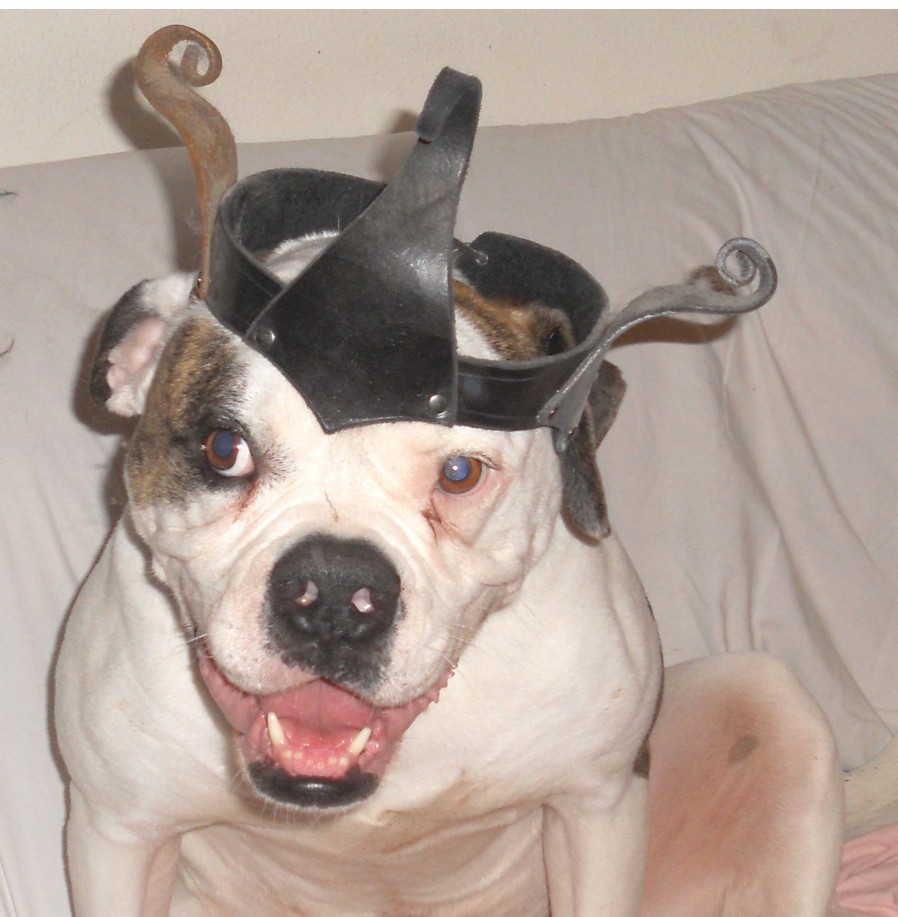 PLEASE PLEASE PLEASE
Petey needs a HOME !!!!
.
If you think animals are safe at the SPCA - think again -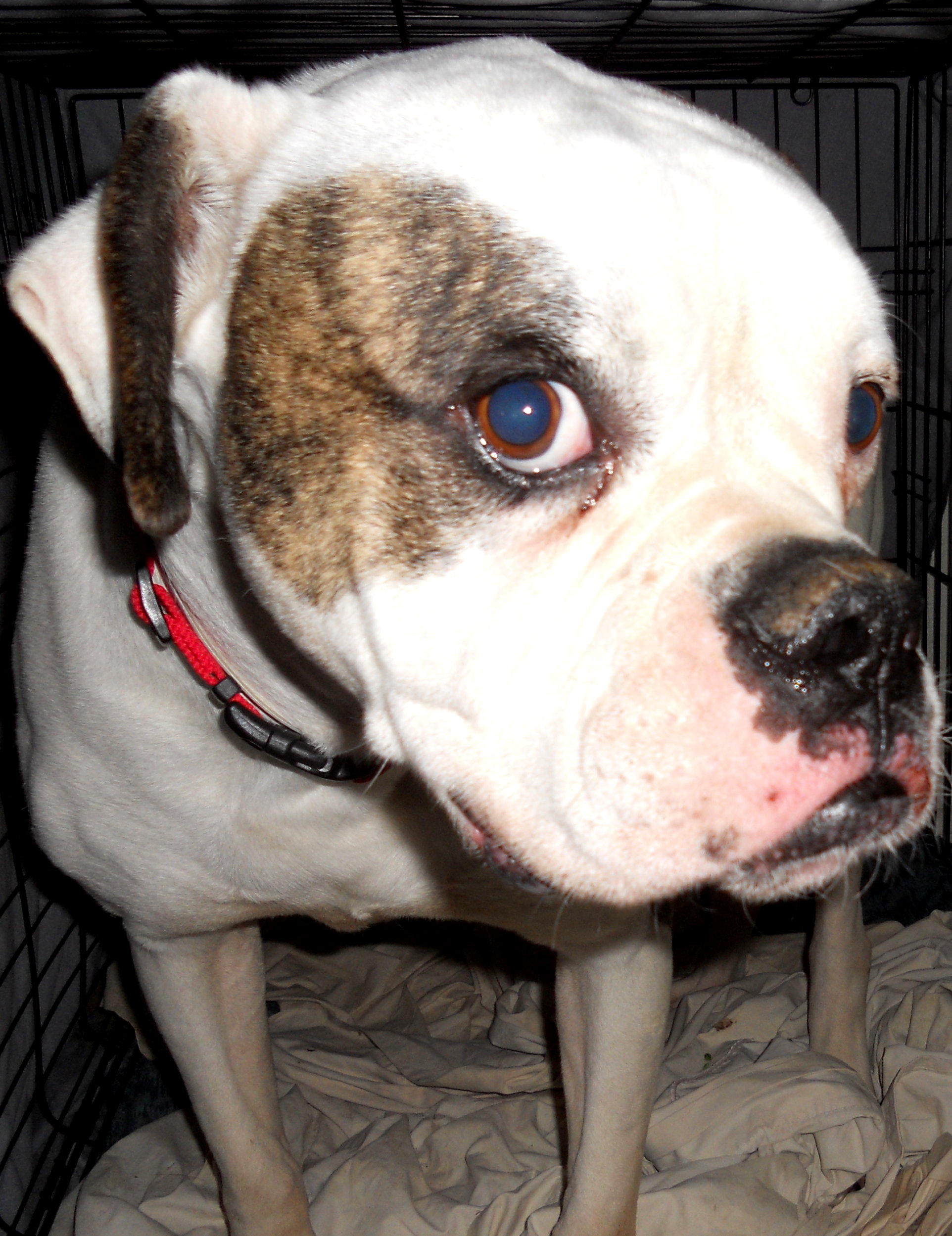 This is Petey an American Bulldog and a love bug. Petey had been hit by a car and taken to the SPCA where he was all patched up unfortunately after enduring all that, the moment he sneezed he was placed on a Euthanasia list.
Unacceptable!!!!!
Petey is such a good boy and deserves a loving family.
Petey is GREAT, he is good with everybody, really wants to play with the cats and gives the best hugs and kisses. He loves his bone and is house and crate trained.
Petey is a dream dog !!!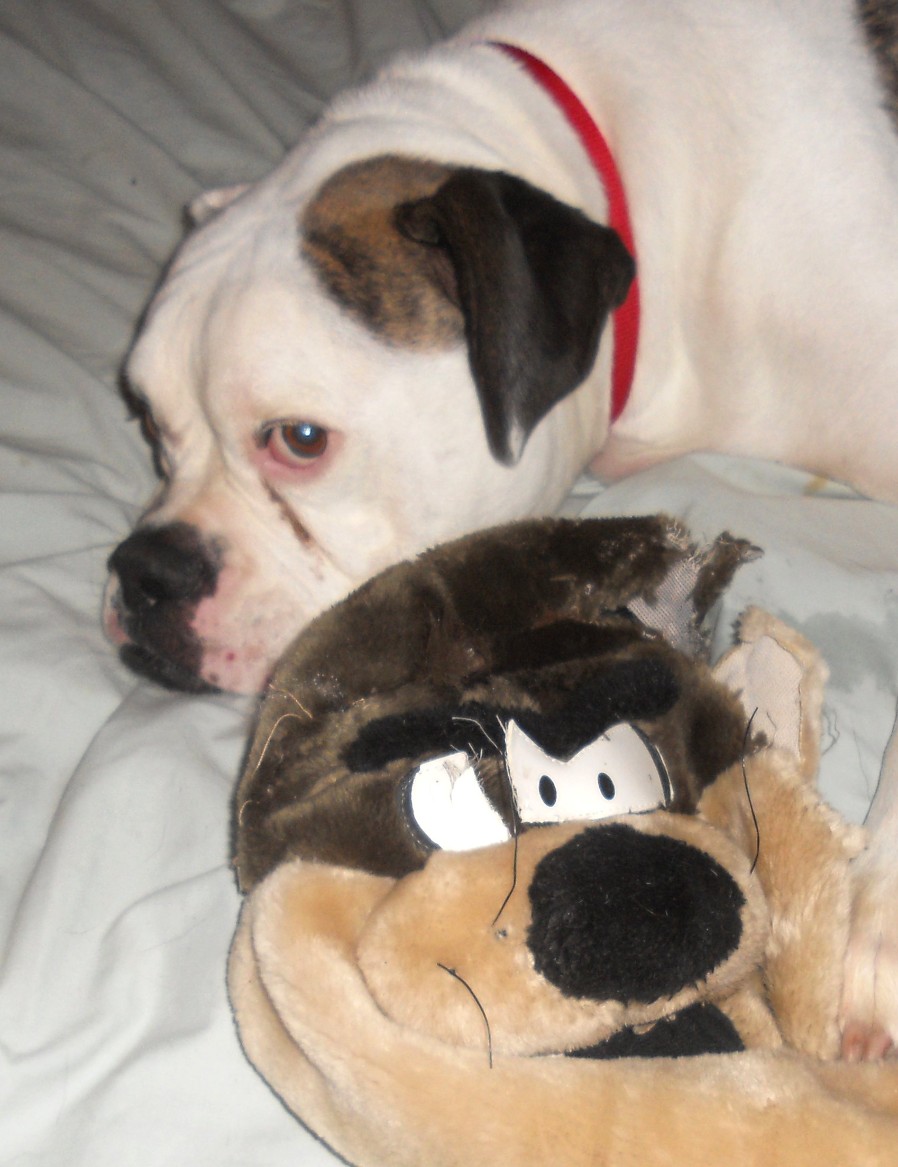 One down one to go.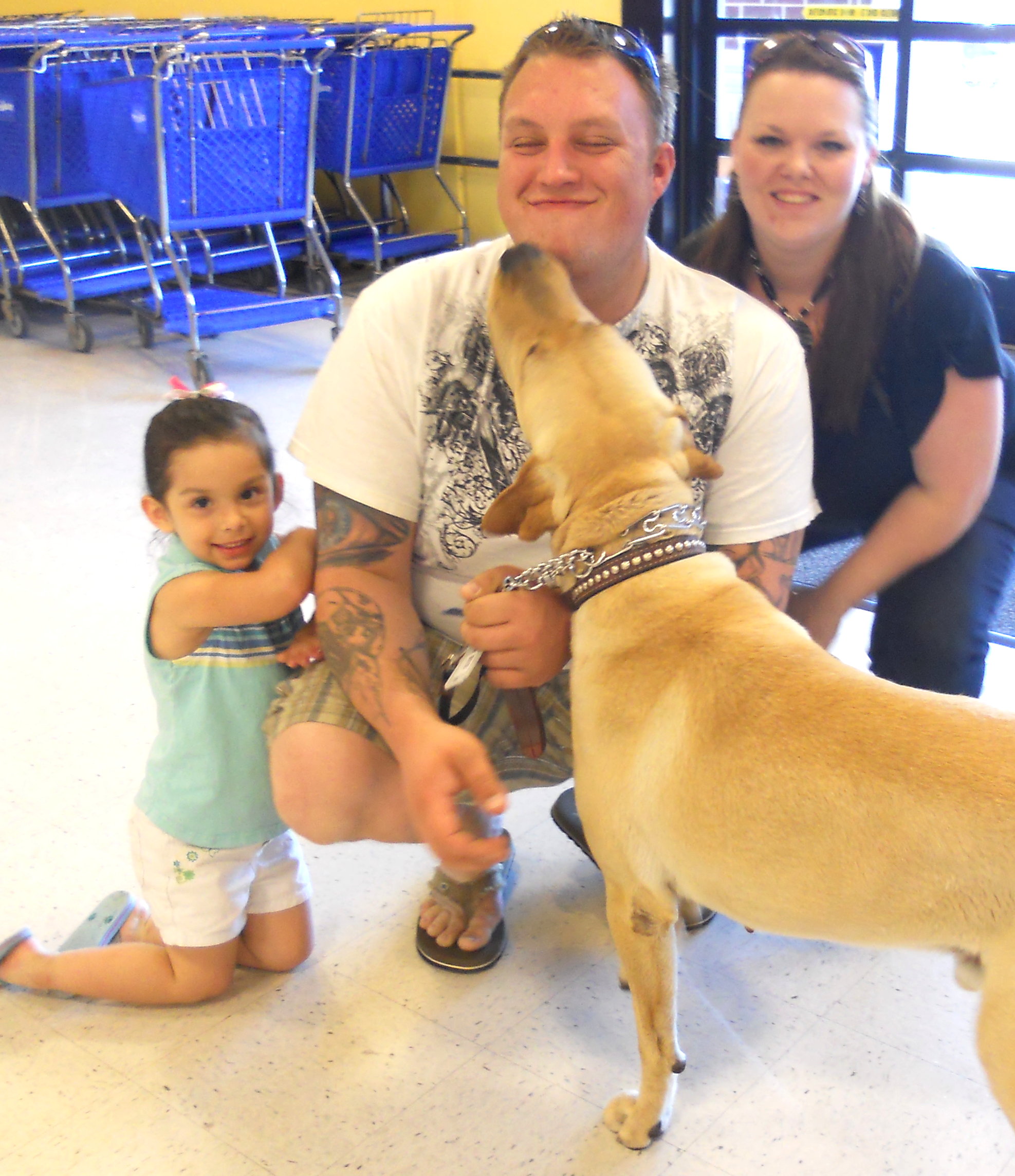 YAY,YAY !!!!
Stinler Bug out Yellow Lab was adopted out this week, look at that happy family, what a difference a month makes ! Stinker Bug was so happy, he is gong to be so spoiled, yay !!!
Chained to a post at a Used Car Lot
Stinker and LuLu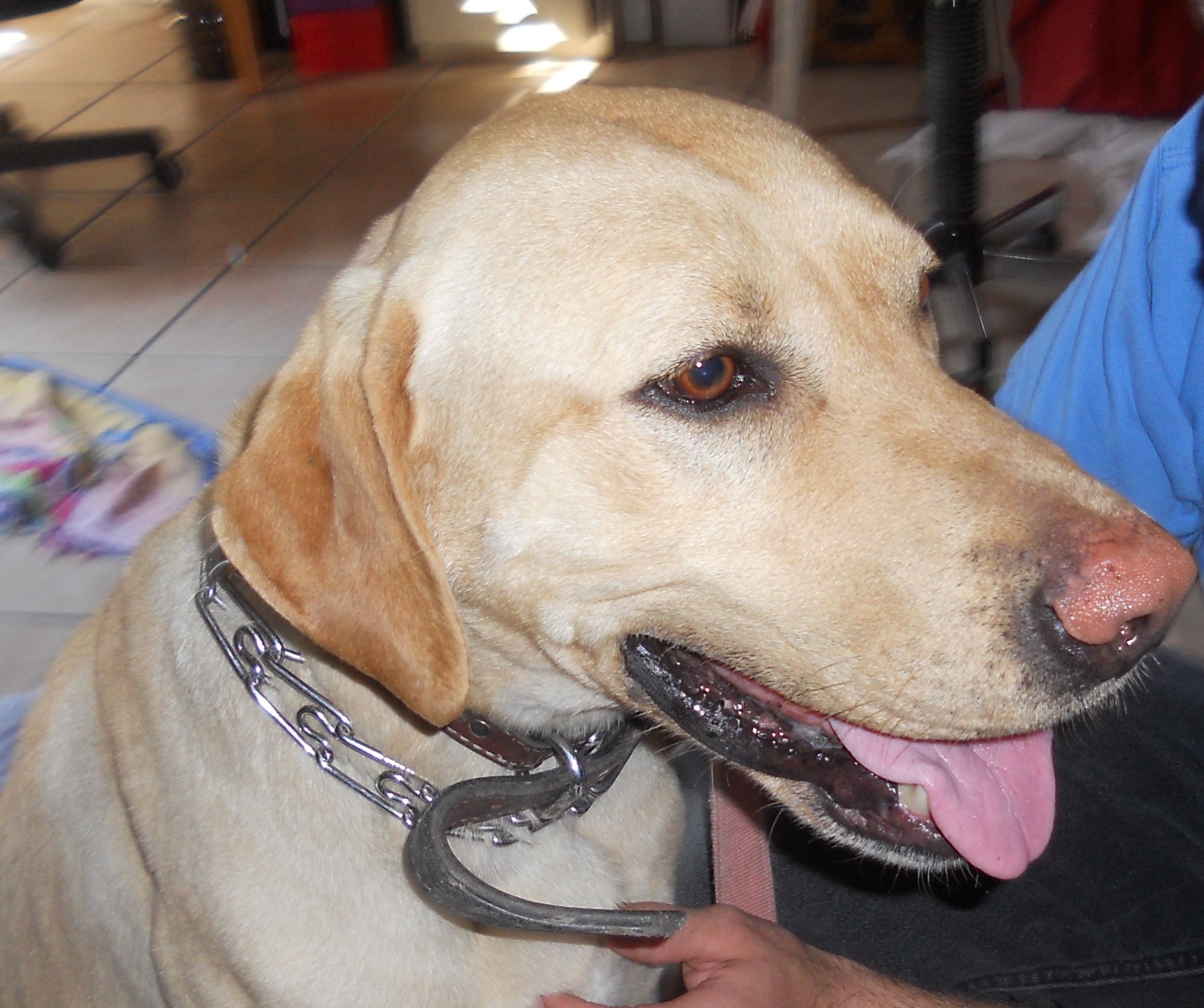 I was at a used car lot -
I have been threatened that if I post the name of the lot that the owner will sue me,
anyway, there were 2 medium sized, unremarkable looking ,normal, friendly dogs...chained to the front porch.
No food, no water, filthy and underweight with sores and open wounds. The male carried a bundt cake pan around in his mouth everywhere.
Broke my heart !
When I asked who owned the dogs I was told that it was the owner of the car lot, of course he was not there. When I pressed further I was told that the owner has been looking to
"get rid"
of the dogs, he took one to the "hospital" and was told that he had heartworms and would need an expensive operation - right, whatever.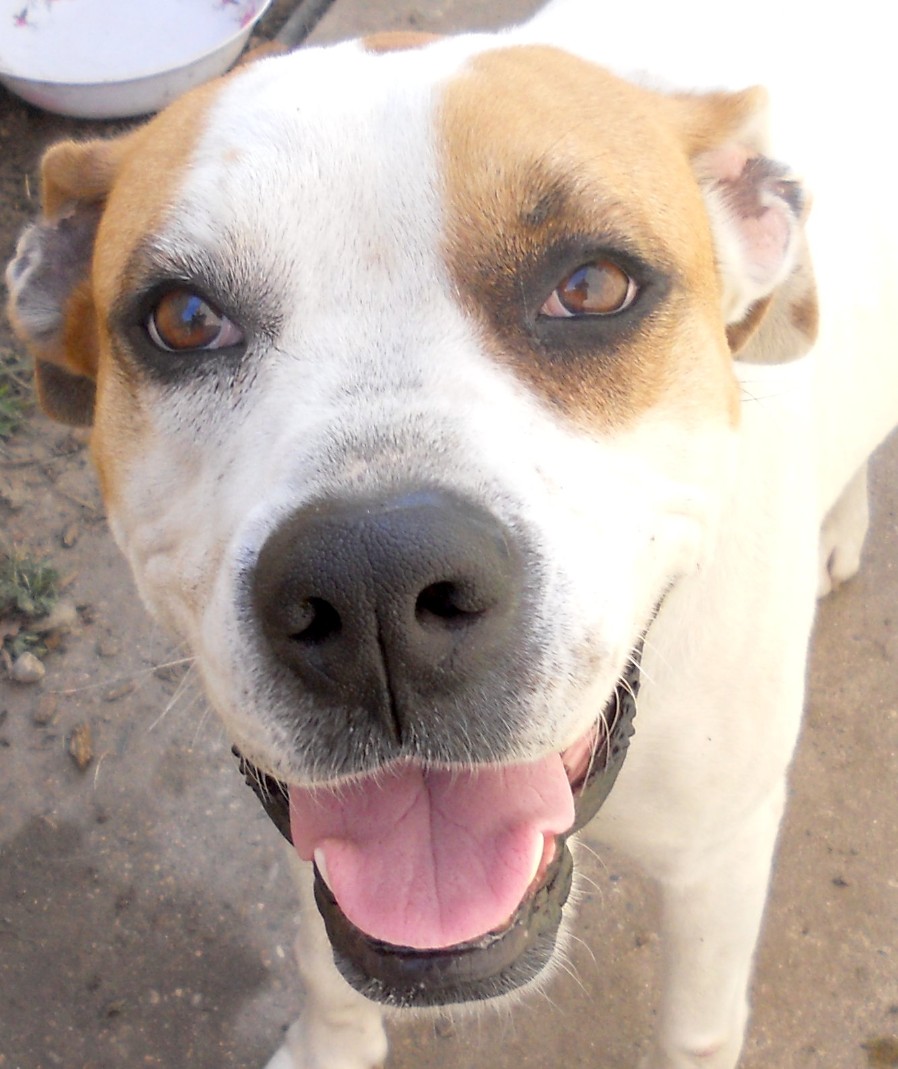 Now they were looking to
"take the dogs somewhere to be put down."
Okay, I don't think so. I convinced them to call their boss and request that he relinquish both dogs to me. The coward would not even put his name on the form only the name of the car lot.
So here I have 2 medium dogs, a famale Pitie/Am Bulldog mix - the car guys called LuLu and a Yellow Lab mix - Stinker, both needed spay/neuter. Both with health issues.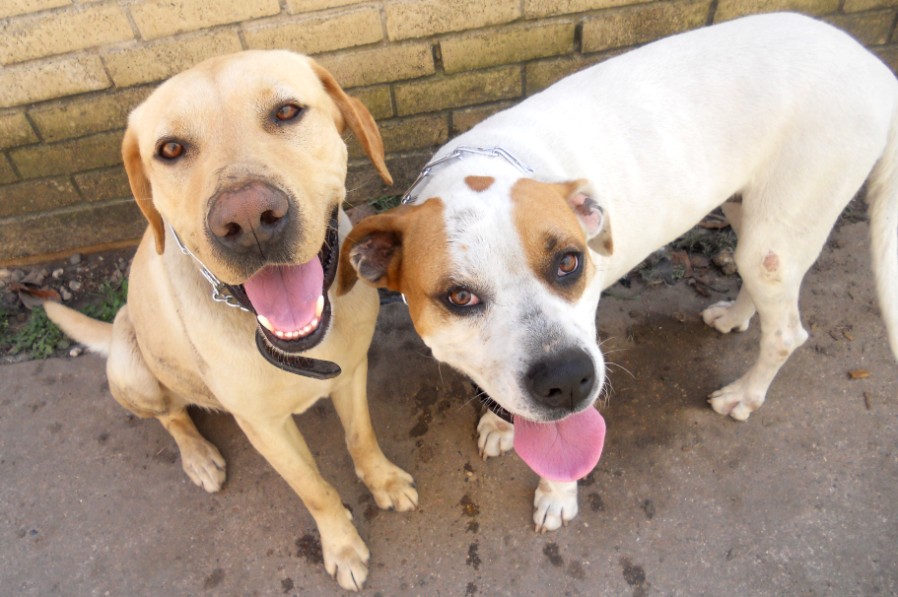 But neither is on the end of a chain anymore !!!!!
I told the little boys who work at the car lot, if you won't be a hero and do the right thing ...at least stop doing the WRONG thing !!!!!!!!!!!
We vetted both dogs, both are now UTD on all shots and Stinker had his neuter, LuLu will have to wait for payday for her spay. Both are Heartworm positive so we began treatment today.
Their bodies reflect life on the end of a chain but their spirits are fun loving and joyious. They now run and chase balls and eat as much as they want.
PLEASE, PLEASE if you have room in your heart and home please consider LULU or Stinker - they deserve more love than you can imagine and in return you will change their lives and yours.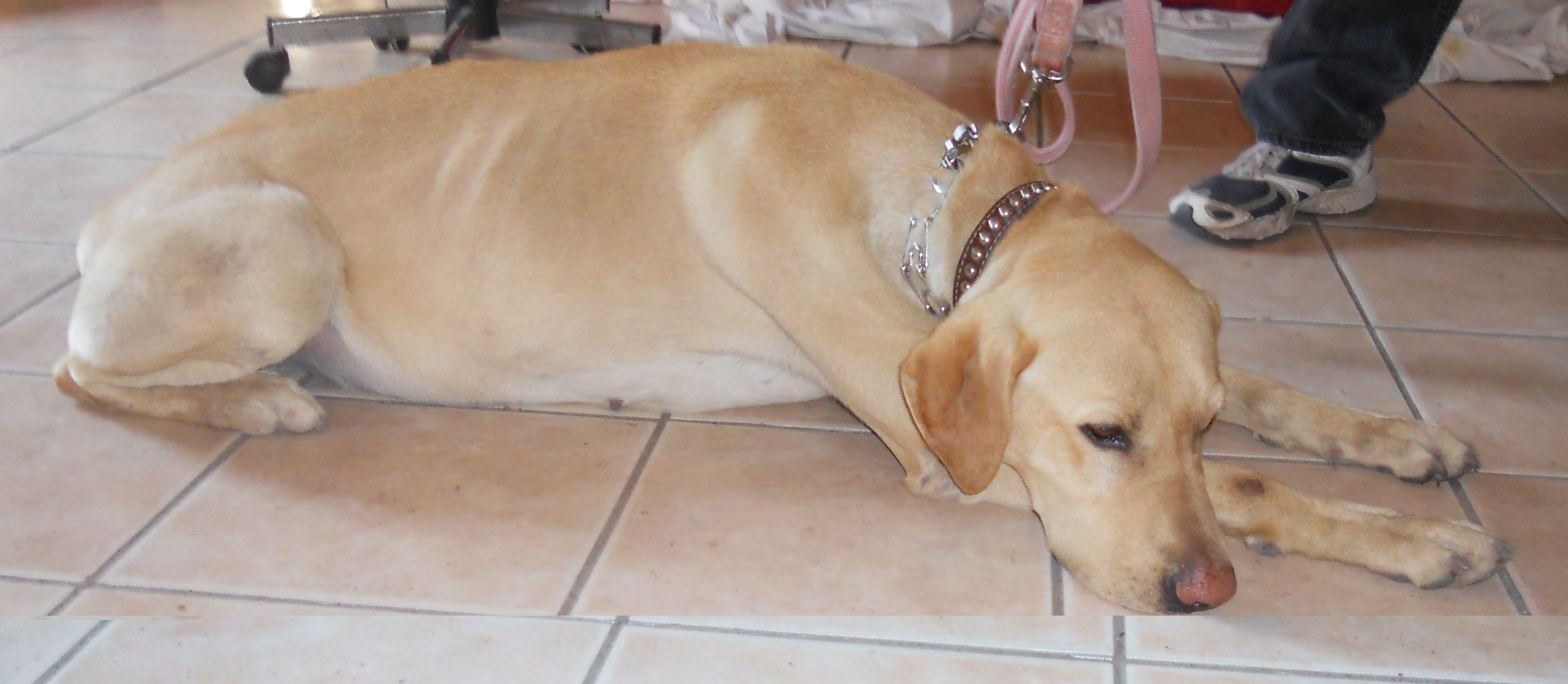 Their bodies need time to heal, they need good nutrition, patience and love.
Be A Hero today.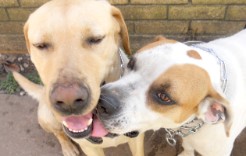 All it takes is.... LOVE
LOLIPOP !!!!!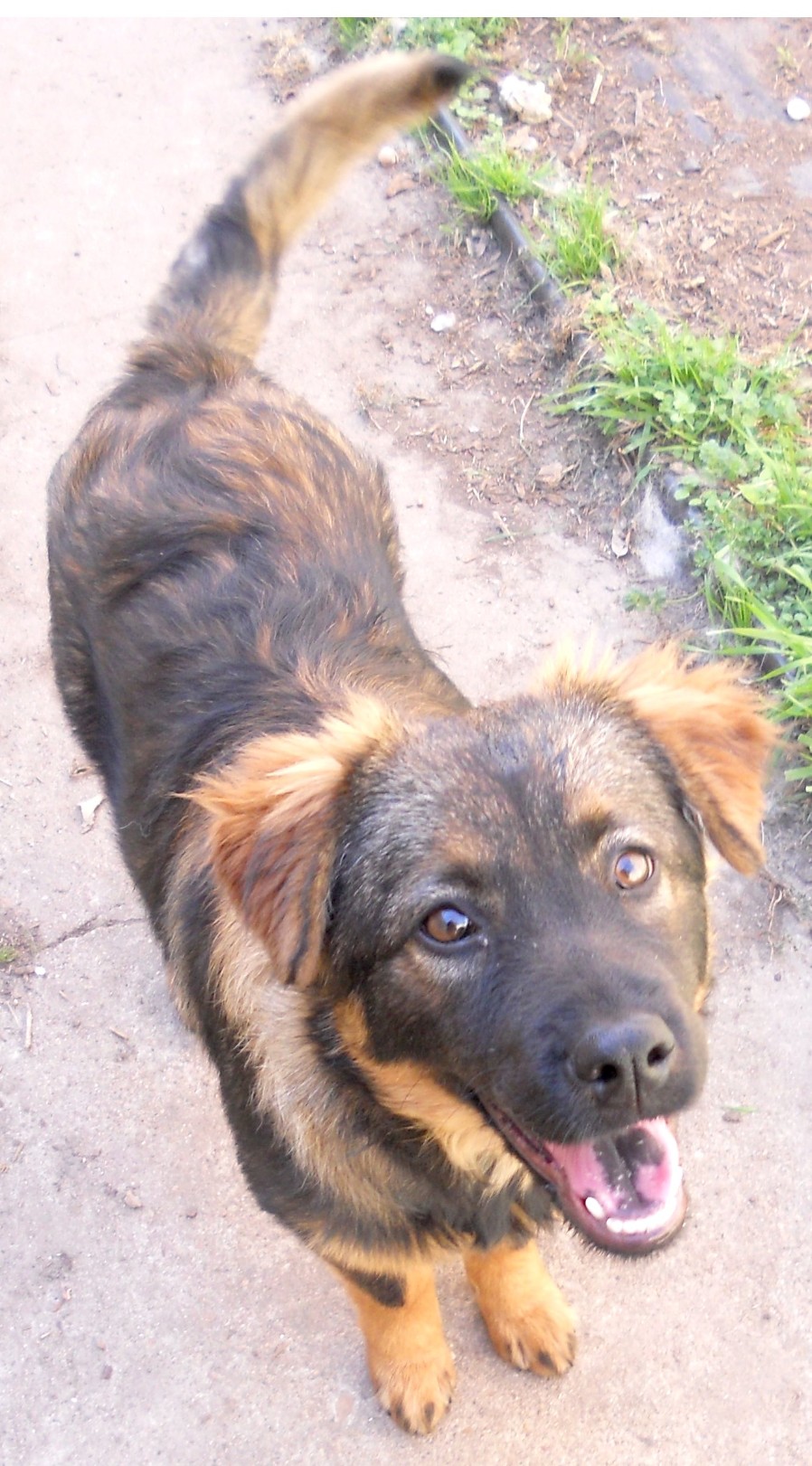 ADOPTED 4/2/11 YAY!!!!
Meet Lollipop this is a STUNNING puppy. Lolli is a 6 month old Leonberger. The Leonberger is a newly recognized AKC breed. It is originally from Germany and is a mix of Saint Bernard, Newfoundland and Great Pyrenees. Lolli appears to be just such a dog.
She is curious, calm and a bit shy.
Lolli was rescued from a county animal shelter, recognizing that Lolli is going to be a giant breed with special needs, the caring people at the shelter called me so I could find just the right family for her.
Lolli and I are looking for someone who wants a big, fluffy, cuddle-bug. Lolli is UTD on her shots, heartworm negative and will be spayed soon. She is great with other dogs, her roommate and best buddy is a 5 yr old American Bulldog named Petey Pie.
We don't know where Lollipop came from, right now she is scared and really needs reassurance, she would be great in a multi animal home.
If you are looking for a beautiful, loving companion - you are looking for Lolli.
ADOPTED !!!!!!!
Romeo found his forever home with a wonderful couple who are ready to spoil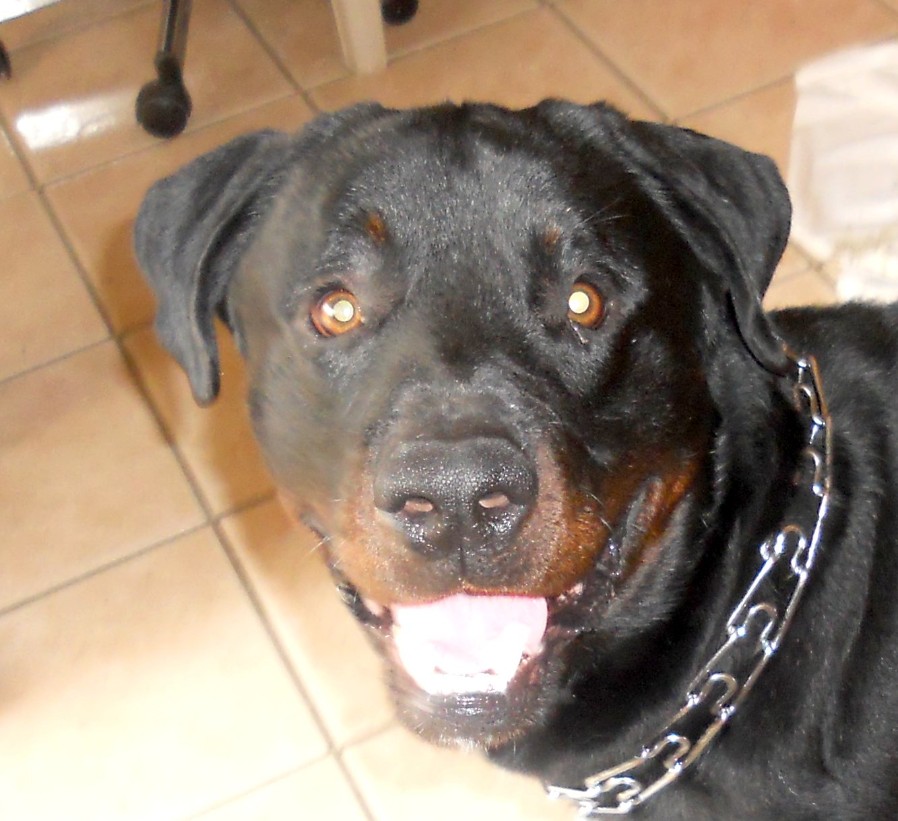 him Rotten !!!
Romeo up-date
Okay we have had Romeo for 2 weeks now and we can say for sure he was abused. This poor, sweet boy just hits the flor whenever there is a loud noise, even a happy noise. He reacts to someone standing over him by laying down and rolling on his back and hugging your feet. He tucks his head down and is very submissive. There is a scar on is nose and he appears to have been grinding his teeth on something, perhaps a chain or fence.
ALL he wants is to curl up in your lap. He really wants to play with the cats, he gets very excited, we are training him - more like trying to convince him that YES, he is TOO BIG to play with the kitty.
He is neutered, housebroken and UTD on all shots, we are really looking for a special loving family to open up their hearts to Romeo, someone who wants a loving companion.
HAPPY NEW YEAR GEORGE !!!!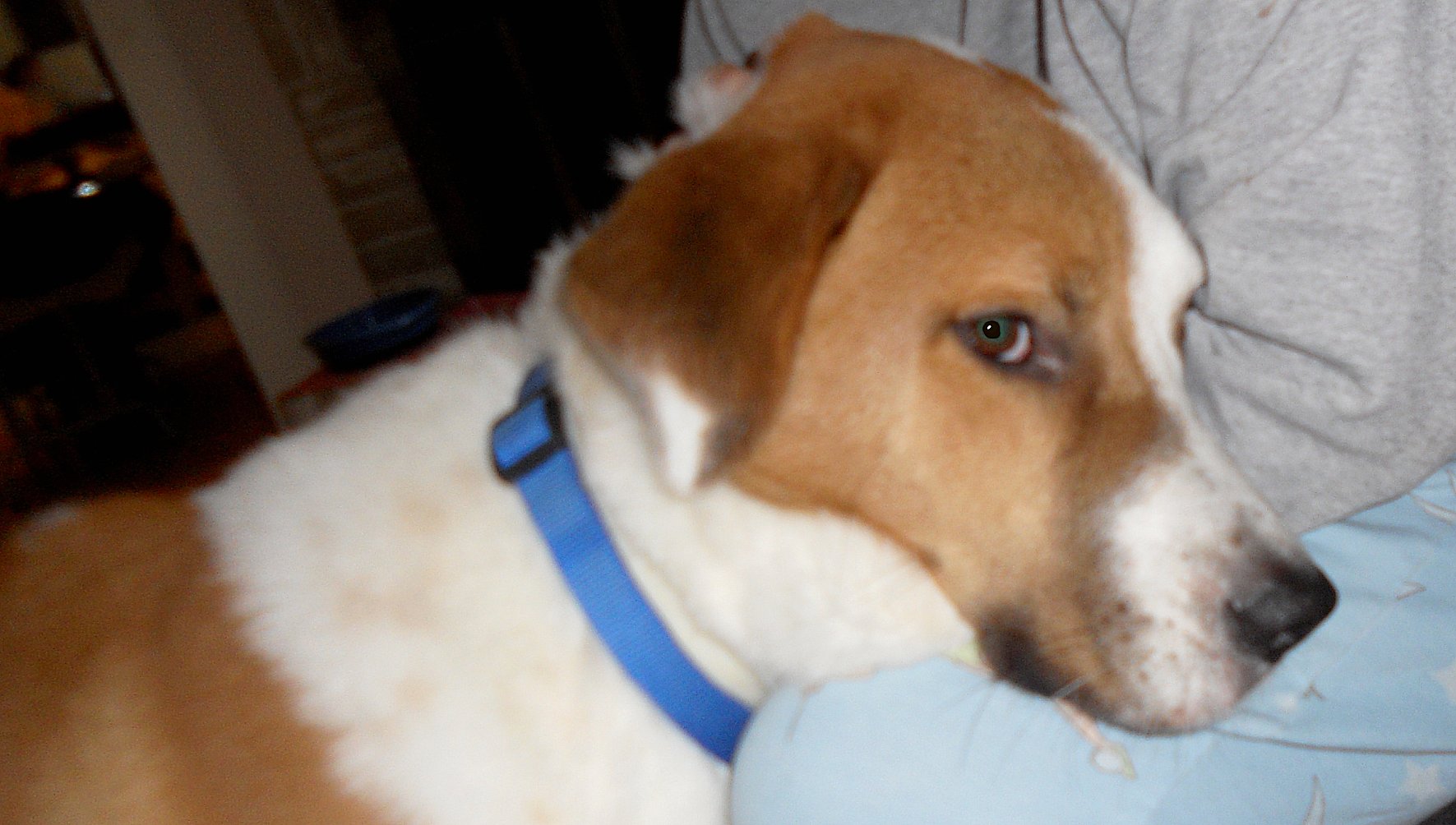 Happy New Year George !!!!!
George has found his forever home. A beautiful home and a loving family.
Thank you Laura and Michael, you are wonderful and we know George is loved.
Happy New Year !!
George is a BEAUTIFUL small Saint Bernard /Pyrenees mix. He was trapped by animal control in a neighborhood outside of Houston and taken to a shelter where no one ever came to look for him. This boy is so sweet and has such an experssive face. He is sensitive and has obviously been mistreated and hurt. He is severely under weight and needs someone to love him. He seems to be a very short, medium frame Saint Bernard/ Pyrenees mix with a silky soft coat. We are beginning to work with him on trusting that not all people will hurt him.
George has made friends with all the animals here and really loves my 14 year old calico cat. George has been to the Vet, he is UTD on all shots and is Heart worm negative !!! He is already micro-chipped and will be neutered soon.
If you have love in your heart and home for this boy please consider fostering or adoption.
Smiling George !! Look at the difference a few days makes.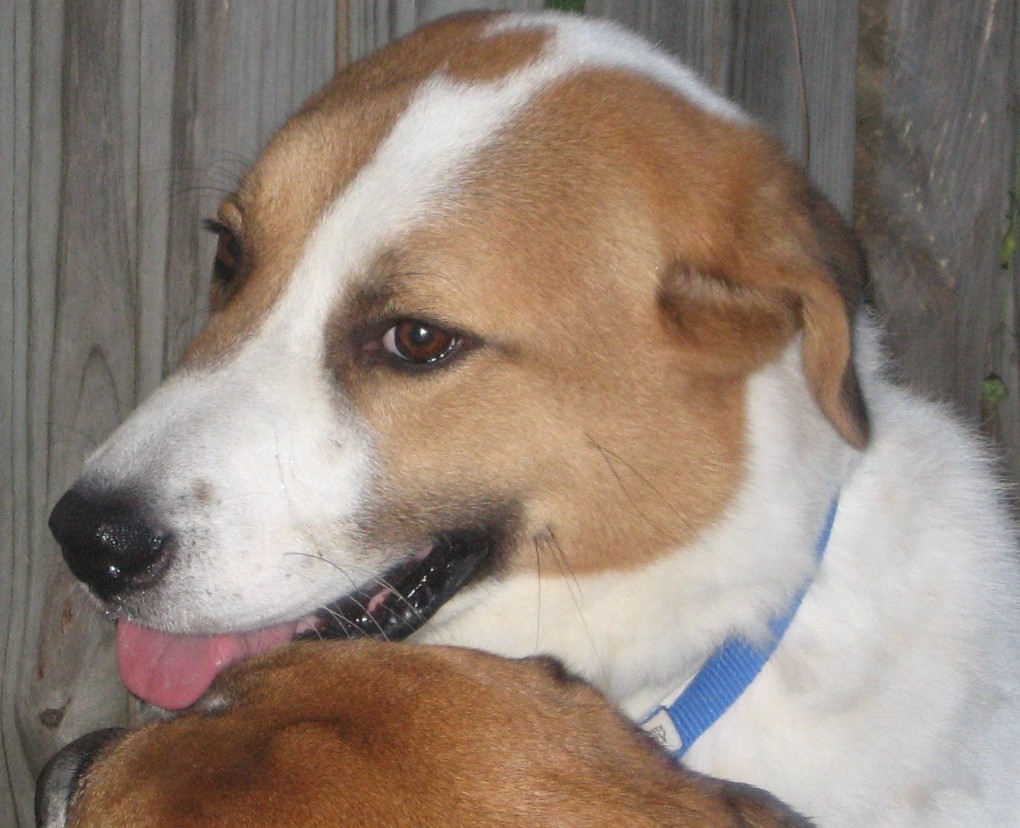 Mac was Adopted and is loving his 65 Acre, Foreverhome in the Texas Hill Country.
Merry Christmas Mac, thank you John and Evey
THE MAC ATTACK of LOVE
TOO BIG TO LIVE !!!!????
This is MAC a 1 1/2 yr old Anatolian/ Great Pyrenees mix.( comes complete with double dew claws ) He was surrendered by his owner. Mac was taken to the city shelter on 12/2 and due, OUT on Sat. 12/4. Because of space and his SIZE ( 3 ft tall and 81lbs ) there was going to be no room in the adoption area. Now, what this means is...in order for Mac to placed for adoption a space would have to be "created", or Mac would NOT go to adoption. Either case is unacceptable. The shelter does NOT want to make these decisions and thankfully, they called us, we have only one decision to make, where to put his bed.
Mac is truly WONDERFUL !!! All he wants is affection. He loves to snuggle and lay on the bed, he thinks he is a lap dog. He loves treats and cries when left alone. He is still a baby. Mac is an Anatolian Shepherd/ Great Pyrenees mix. He is neutered, UTD on shots and Heartworm Negative !!!
Mac needs a warm soft bed and a happy home for the holidays !!!
Merry Christmas Mac !!!! We know you are loving your new family !!! Thank you Evey and John !!!!
ADOPTED !!!! 12/4
Here comes Clifford our Big Red Mastiff !!!!!!!!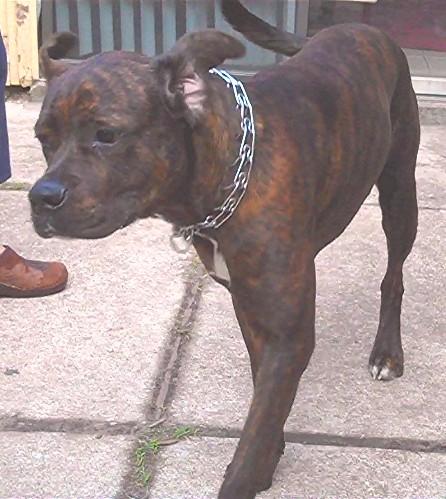 Clifford was picked up as a stray and taken to the Houston city animal shelter this week. The shelter is full and due to his size Clifford was scheduled to be killed on Sunday at 4:00.
He had only been there 72hrs. His only crime - he weighs 95 pounds.
I was called to the shelter and asked if I could make room for him, as I looked in to his eyes I realized I might be the last thing he ever saw. After a good cry, I brought Clifford home.
Thank goodness there are wonderful volunteers and shelter workers ho take the time and effort to call the rescues and let us know when we need to act fast.
Clifford is a beautiful Red Brindle Bull Mastiff, utd on all shots and Heartworm Negative !!!! He really is stunning. He walks great on a lead, rides well in cars and so far, has not eaten the cats.
He appears to be around 1yr old. He will be neutered after Thanksgiving.
Thank you Beverly and Tom for loving Clifford and giving him a
FOREVER HOME !!!!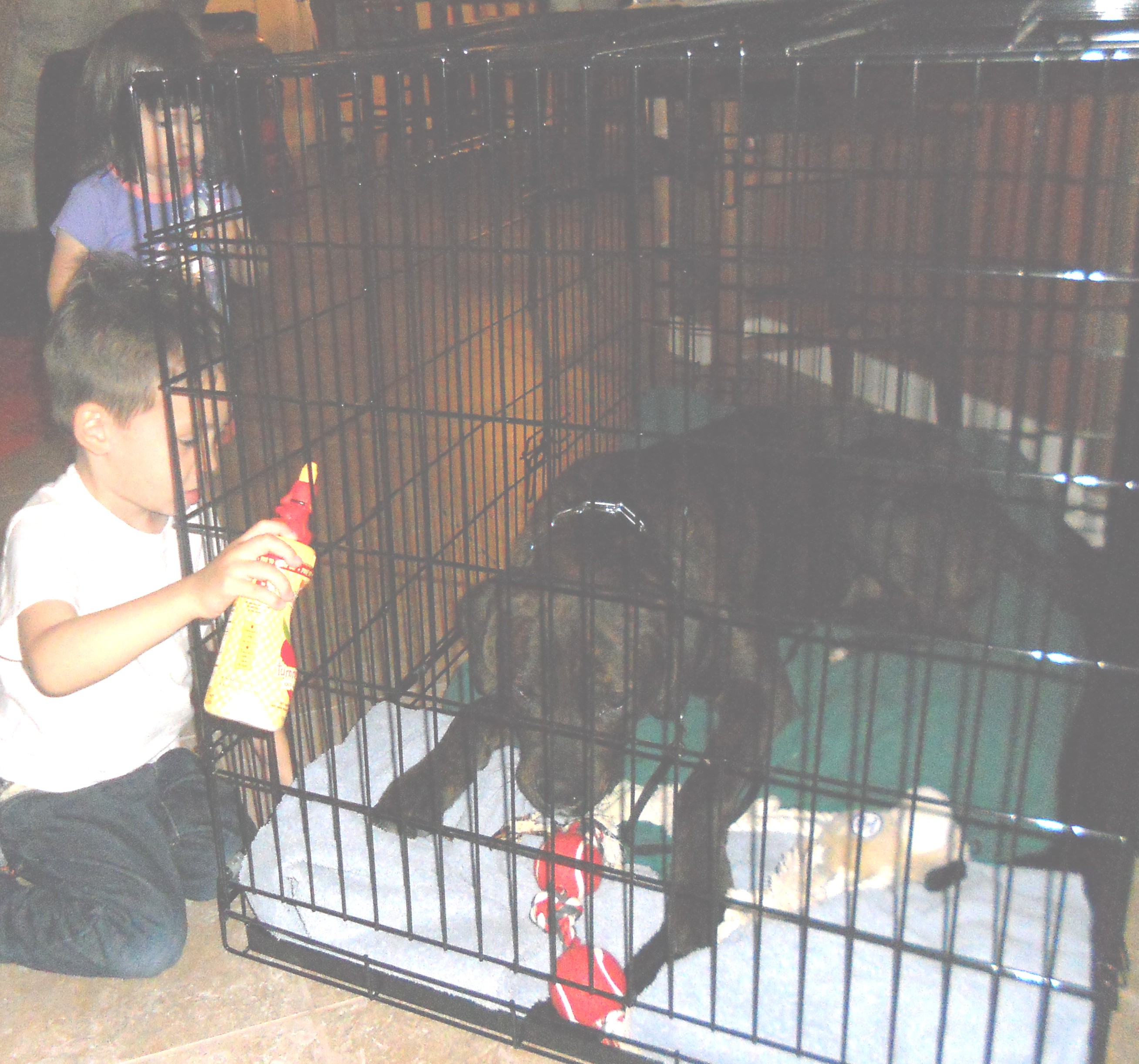 ADOPTED 12/3
T. Rex
Rex is a Great Dane/Lab mix, currently 81 pounds and heart worm negative!!! He is up to date on all his shots and has been neutered. This boy has the BEST personality, he is gentle and playful. He loves everyone and has a special talent, he can catch any kind of food in mid air !! That will be the next video.
We are teaching him how to play, no one ever taught him. He is a big puppy and is ready for a funloving family !!
Rex is loving life, loving the other puppies here, the cats, and a little stuffed pumpkin.I was on the floor gasping for air because I was laughing so hard the first time I saw him play with this pumkin. Please take a look at the video below. This will give you an idea of just how wonderful this guy is !!
Thank you David for goving Rex such a GREAT life !!!!!!!!!!!!!
This is Sasha we only had her for 3 days when a Beautiful family fell in Love with her. Sasha was adopted on 10/6/10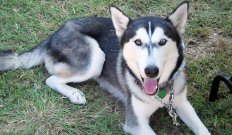 Sampson, the Brave
Sampson has been Adopted
9/27/10
This is Sampson, and his story of survival.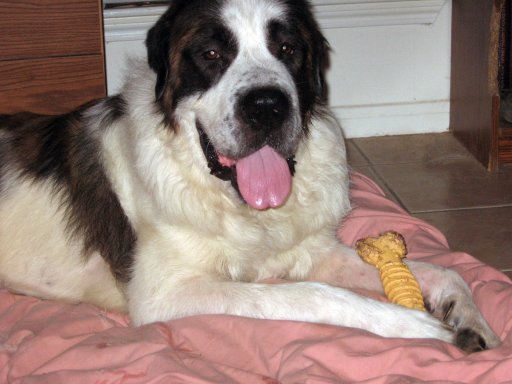 Sampson was found roaming the streets of Tomball Texas in August..
You see, Sampson was abandoned by his owners, they moved away and left him outside to fend for himself, alone and afraid. He was starving. Sampson had obviously suffered abused and while on his own had been attacked by animals. His skin had been so sun burned that at first sight shelter workers thought he had mange. A woman in Tomball saw him and tried to help, she put medicine on his ears and began calling shelters and rescues in her area. The rescues were all full and she was afraid to take him to a shelter.
Jurassic Bark Rescue was contacted and told this boy had been taken to the County Animal Control facility. When we called about him, we were told, in no uncertain terms, that when the mandatory hold of 72 hours was up...he would be put down.
We went down to the shelter and for the first time saw Sampson. He was so sweet, so lonely and so very underweight. There was a light in his eyes and we could see the love in his huge heart. He grinned at us and stole our hearts. We were there the second his hold was up. We took him to the Vet and had a full work up. Sampson was 100 pounds under weight, he did not have mange and was heartworm negative. !! He had a nasty ear infection and needed to br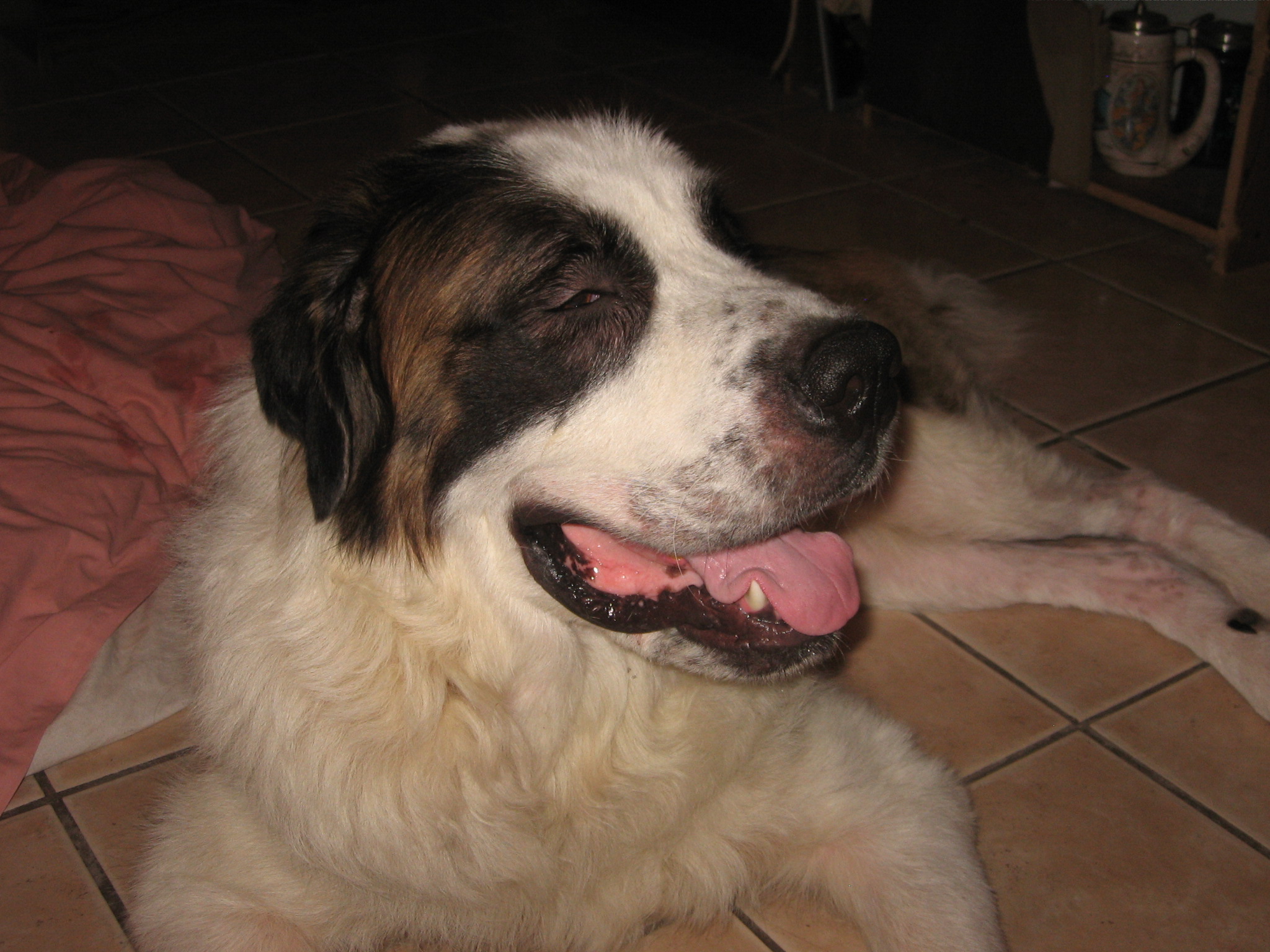 neutered.
That was Then......This is Now....
Sampson feels so much better,he has filled out substantially putting on 15lbs. His skin beautiful and his coat is coming back in nice and soft. He has been neutered and is almost done with his ear medicine. He is utd on all shots and has been spotted out and about in Houston. Man about town. Sampson is a big goof, he loves to run and jump. He gets up in bed with us to have his belly rubbed. He takes long walks with our Pyrenees and walks very well on the leash. There is a gentle kindness about him and a thoughtfulness that lets us know he somehow understands that things are going to be alright now. We are looking for the right forever home for Sampson. He deserves so much love, he will return it in ways you can't imagine.
Sampson is a 2 year old Saint Bernard, he stands 3 feet tall and weighs 108 pounds ( right now )
Sampson is a lover, a drooler and a clown !! He will warm your heart and brighten your day.
Sampson has been adopted by his Foster parents !!!